Matchbox King-Size No.K-8 Guy Warrior Articulated Car Transporter
In 1967 the Lesney Matchbox Major pack range was deleted and the M8 Guy was moved over to the King-Size range as number K-8 the Guy Warrior Articulated Car Transporter. The Guy had the baseplate inscription modified from M-8 to K-8 and all Guys had clear or light green tinted windows, Silver trim to the grille and headlights and white lettered decals with a black outline that read 'Farnborough Measham' and 'Car Auction Collection' on the sides of the trailer. The tractor unit and trailer were permanantly joined by a large rivet.
The first version had a turquoise cab with an orange trailer and orange wheel hubs which were fitted with grey plastic tyres, Soon black tyres replaced the grey ones and later red wheel hubs with black plastic tyres were fitted, The model was recoloured to yellow all over but at the time of the colour change some turquoise cabs were paired up with yellow trailers which is quite a hard variation to find, The final version had a yellow cab and trailer.
The turquoise and orange version was packaged in an E type box and the all yellow version was packaged in the F type window box. The model was deleted in 1970 to make way for the Caterpillar Traxcavator.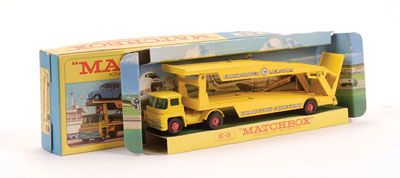 WWW.VECTIS.CO.UK
collectable toy specialists.
Lot 406 Matchbox - September 8th, 2009 Matchbox King Size No.K8 Guy Warrior Articulated Car Transporter - yellow, red plastic hubs with black tyres - Excellent Plus, inner pictorial stand is Near Mint, outer blue and yellow window box is Good to Good Plus. Estimate: £20-£30 Bidding is now closed on this item Price Realised: £25



>