Matchbox King-Size No.K-7 Shelvoke & Drewry Refuse Truck
1967 saw the Lesney Matchbox King-Size K-7 Shelvoke & Drewry Refuse Truck join the range when it replaced the Curtiss Wright Rear Dumper, It had a red painted cab & chassis with silver trim to the grille and headlights and a silver-grey hopper & loader, The hubs were red plastic with black plastic tyres, It had clear plastic windows and an ivory interior and the sides of the hopper carried decals or later labels with 'Cleansing Services' in orangy-red and white which were the same as the ones used on the 15c Tippax from the 1-75 series. The later issue fitted with labels were a more pinkish shade. The earliest models did not have a patent number on the base,
It was packaged in E or F type boxes, It was later converted to superfast wheels where it kept the original colour scheme and later a blue and orange version was included in the 'Big MX' set number BM1 the 'Mechanised incinerator site and Refuse Truck'. It was deleted to make way for the 'Racing Car Transporter' in 1973.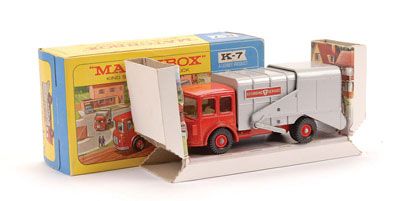 WWW.VECTIS.CO.UK
collectable toy specialists.
Lot 400 Matchbox - September 8th, 2009 Matchbox King Size No.K7 Shelvoke & Drewry Refuse Truck "Cleansing Service" - red cab, chassis and plastic hubs, silver back - Excellent, inner pictorial stand is Near Mint, outer blue and yellow window box is Good. Estimate: £25-£40 Bidding is now closed on this item Price Realised: £15



>