Matchbox King-Size No.K-6 Mercedes Ambulance
The Lesney Matchbox King-Size K-6 Mercedes Ambulance was intrduced in 1967 when it replaced the Allis Chalmers Earth Scraper, The Mercedes can be found in cream or off white, It had a blue roof beacon, Clear plastic windows and opening front doors and tailgate, The grille and headlights were cast as part of the baseplate and it had shield and red cross decals, labels or a combination of the two applied to the bonnet and doors, It could have either chrome plated spun hubs or chrome plated cast hubs and to enable the 'True Guide Steering' to function correctly it had rubber tyres, Unfortunately there is often a chemical reaction between the rubber tyres and the chromed hubs which can melt the hubs. For added play value a white plastic patient on a strecher was included. The model was packaged in F type window boxes and it was deleted to make way for the Cement Mixer in 1973.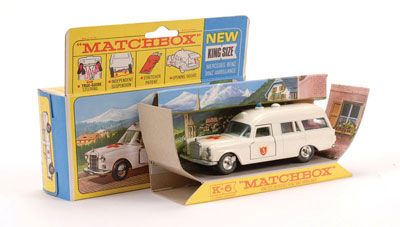 WWW.VECTIS.CO.UK
collectable toy specialists.
Lot 398 Matchbox - September 8th, 2009 Matchbox King Size No.K6 Mercedes "Ambulance" - off white, chrome hubs, blue tinted windows and roof-light, patient on stretcher - Near Mint, inner pictorial stand is Mint, outer blue and yellow window box is Near Mint - nice example. Estimate: £30-£40 Bidding is now closed on this item Price Realised: £45



>