Matchbox King-Size No.K-6 Allis Chalmers Earth Scraper
The Lesney Matchbox King-Size K-6 Allis Chalmers Earth Scraper joined the range in 1961, It was always painted orange but shades can vary. The engine was painted red and the grille and headlights were trimmed with silver, The wheel hubs were unpainted metal to begin with but later issues had red plastic hubs, All were fitted with black plastic tractor type tyres, The arms that connect the hopper displayed decals with '260' in a circle in white and 'Allis Chalmers' in black, To add realism the hopper was hinged so that the scraper could 'open' and reach the ground and small springs mounted either side of the hopper would close it which was a clever but simple piece of engineering but how we go about emptying the hopper was another matter. The Earthscraper was packaged in C, D and E type boxes, It was replaced by the Mercedes Ambulance in 1967.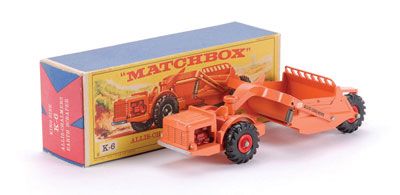 WWW.VECTIS.CO.UK
collectable toy specialists.
Lot 7429 The Flanders Fields Matchbox Collection 2 - June 30th, 2009 Matchbox King-Size No.K6 Allis Chalmers Earth Scraper - orange, dark red engine, bright red plastic hubs with black tyres - Excellent in Good Plus Lesney carded picture box. Estimate: £40-£50 Bidding is now closed on this item Price Realised: £20



>