Matchbox King-Size No.K-5 Muir Hill Tractor and Trailer
The Lesney Matchbox King-Size K-5 Muir Hill Tractor and Trailer joined the Super Kings range in 1972 when it replaced the Racing Car Transporter, The Muir Hill Tractor was painted yellow with a chromed engine, It could have clear or amber windows and it featured a pair of air horns mounted on the roof and it had a striped label applied to the dozer blade which was removable on the early issues, It was found that the prongs that attached the blade to the Tractor would fit some European electrical sockets so were quickly altered, The Driver can be found in light brown, white or blue plastic, The Trailer had a yellow hopper and a red chassis and the sides of the hopper had 'Muir Hill' labels attached and a white plastic hook eye would join it to the Tractor, Both Tractor and Trailer had red plastic hubs with black plastic tyres, Finally one issue was released specifically for the German market which was recoloured to blue Tractor and Hopper with a red Trailer chassis, The Trailer had 'Hoch & Tief' labels and is probably the rarest version of the Muir Hill, It was packaged in Super Kings boxes and it is believed that some were made as late as 1983 when they were included as part of the K-108 Digger, Plough and Transporter set.
Except for the Hock & Tief version there are no individual Vectis listings for the regular yellow version of this model, The value of the yellow model in mint and boxed condition would be approximately £30 to £40.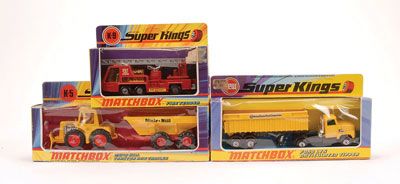 WWW.VECTIS.CO.UK
collectable toy specialists.
Lot 528 Matchbox - September 8th, 2009 Matchbox Super Kings No.K5 Muir Hill Tractor and Trailer - yellow, red, No.K9 Fire Tender and No.K18 Ford Articulated Tipper "United States Steel Corporation" - yellow, black - conditions are generally Near Mint to Mint in Good to Good Plus window boxes - see photo. (3) Estimate: £30-£40 Bidding is now closed on this item Price Realised: £90



>