Matchbox King-Size No.K-4 GMC Fruehauf Hopper Train
The Lesney Matchbox King-Size K-4 GMC Fruehauf Hopper Train was originally number M-4 in the Major pack range until the Major series was deleted in 1967 and the Fruehauf was moved to the King size range, The Tractor unit had a dark red painted cab with silver trim to the headlights and front bumper, It had a black baseplate and light green tinted plastic windows and it was fitted with red plastic hubs as were the twin trailers and the spare wheel affixed to the back of the cab,
The Trailers were painted silver all over including the pair of opening metal doors fitted to the underneath of both trailers and the sides of the Hoppers had red and white 'Fruehauf' labels, One trailer was permanantly attached to the Tractor unit and the other had a white plastic eye that was used to attach it to the back of the first trailer. There seems to be just one variation and that concerns the tyres which are usually found in black plastic but grey tyres have occasionally been found on this model,
The Fruehauf was packaged in E and F type boxes with the F type being window boxes, It was replaced by the Leyland Tipper in 1969.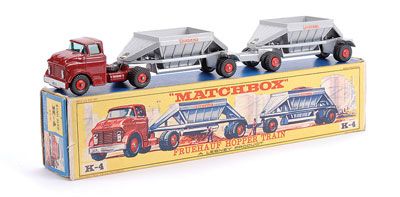 WWW.VECTIS.CO.UK
collectable toy specialists.
Lot 7074 The Flanders Fields Matchbox Collection - June 30th, 2009 Matchbox King-Size No.K4 Fruehauf Hopper Train - red including plastic hubs with black tyres, silver hoppers, with correct No.K4 baseplates - Good Plus to Excellent in Good Plus carded picture box - nice example that still displays well. Estimate: £50-£60 Bidding is now closed on this item Price Realised: £70



>