Matchbox King-Size No.K-K4 McCormick B250 Tractor
The Lesney Matchbox King-Size K-4 McCormick International B250 Tractor was introduced in 1960, It was always painted a darkish red and each side of the engine cover carried decals for "McCormick International B250" which come in two sizes which could have thin or thick white lettering, The wheel hubs were either red, orange or green. Metal hubs on the early issues and plastic on the later ones and some issues had a mix of plastic and metal, All versions were fitted with black plastic tyres and the version with orange hubs is quite rare and will fetch a premium. I believe there was only one casting modification and that was to the towing hook which was thickened on the later issues, The tractor was packaged in C, D and E type boxes, It was deleted in 1967 to be replaced by the GMC Tractor and Hopper train.

above: a very unusual K-4 that is believed to be a pre production model, Note that it has unlisted white painted metal hubs and the decal does not have the white circle and 'B 250' that is found on the regular issue, From the Michael Bez collection,
Photo courtesy Michael Bez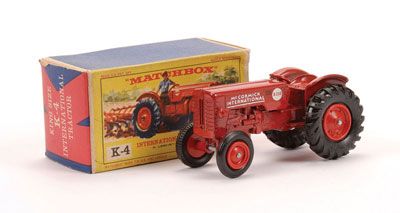 WWW.VECTIS.CO.UK
collectable toy specialists.
Lot 395 Matchbox - September 8th, 2009 Matchbox King Size No.K4 McCormick International B250 Tractor - red including plastic hubs, large tow hook and decals, without silver head-lights - Excellent Plus in Good to Good Plus type C Lesney colour picture box. Estimate: £30-£50 Bidding is now closed on this item Price Realised: £30



>