Matchbox King-Size No.K-23 Mercury Commuter Police Car
The Lesney Matchbox King-Size K-23 Mercury Commuter Police Car joined the range in 1969, It was a very similar model to the one that had joined the 1-75 series towards the end of 1968 but itwas scaled up and of course the dog was removed from he cargo area, The model was painted white, it had a red plastic interior and blue roof beacons, The windows were clear plastic and it had a set of 'Highway Patrol' labels and the roof sported a pair of silver plated air horns, The silver plated baseplate included the grille and headlight detail and it had chrome plated metal hubs with black rubber tyres, The rubber tyres were fitted to increase the grip from the front tyres to enable the 'True Guide Steering' to function correctly. To add some realism the car had opening front doors, a tow hook and working suspension, It was packaged in F type window boxes with header card and there were no known variations but pre production models in yellow with a white interior are known to exist which are basically the same as the production model but they did not have the labels applied. In 1971 it joined the 'Speed King' range when it was fitted with superfast wheels and in 1974 it was replaced by the 'Hoch & Tief' Low Loader.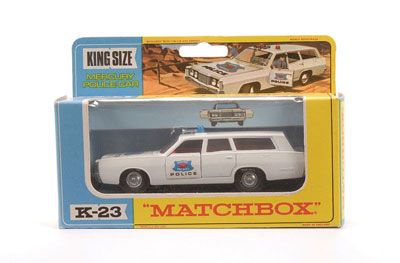 WWW.VECTIS.CO.UK
collectable toy specialists.
Lot 433 Matchbox - September 8th, 2009 Matchbox King Size No.K23 Mercury "Police" Car - white, red interior and tow hook, blue roof-light, chrome hubs - Near Mint (couple of minor factory marks) in Excellent blue and yellow window box. Estimate: £30-£40 Bidding is now closed on this item Price Realised: £30



>