Matchbox King-Size No.K-22 Dodge Charger
The Lesney Matchbox King-Size K-22 Dodge Charger became the second Passenger Car to join the range in 1969, Like the K-21 Mercury Cougar it also featured 'True Guide Steering', Clear plastic windows and a silver grille that was cast as part of the baseplate, It had rubber tyres on chrome plated hubs and it is usually found with a blue plastic interior but a very small number have been found with a dark yellow interior which was also shown in the illustration of the car on the back of the F type window box, The front of the box shows a Red Charger which may have been the original colour scheme before it was finally decided that it would be issued in blue.
Like the K-21 this one was also modified when in 1971 it returned to the range as the orange or pink/orange K-22 Dodge Dragster complete with 'Dinamite' or 'Bender' labels.

Showing the two different box sizes and illustrations that were available for this model.
photo courtesy Attila Szekely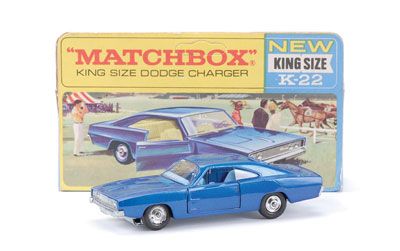 WWW.VECTIS.CO.UK
collectable toy specialists.
Lot 583 Matchbox - December 2nd, 2008 Matchbox King-Size No.K22 Dodge Charger - metallic blue, pale blue interior, chrome hubs - Near Mint (heat reaction to both front wheels) in Good Plus "New Model" pictorial window box illustrating red model. Estimate: £20-£30 Bidding is now closed on this item Price Realised: £30



>