Matchbox King-Size No.K-2 Scammell Heavy Wreck Truck
In 1969 the Lesney Matchbox King-Size K-2 Scammell Heavy Wreck Truck replaced the KW Dart, All regular wheel versions of the scammell had a red plastic grille, amber roof beacons, red plastic hubs with black plastic tyres, Plated baseplate and air horns on the cab roof and "Esso" labels to the doors, The jib was painted red and it had twin unpainted metal hooks attached by two white plastic 'wires'. The fist version had a white painted body with either green or amber tinted windows, The body was later recoloured to gold and this one is always found with amber windows, It was packaged in F type boxes that can be with or without a header card. Then in 1970/71 it was converted to superfast wheels, It kept the gold body with red jib & the Esso labels but could have an unpainted or red baseplate, silver or gold hooks and amber or clear windows and finally red or black grille, It was deleted to make way for the Car recovery Vehicle in 1977.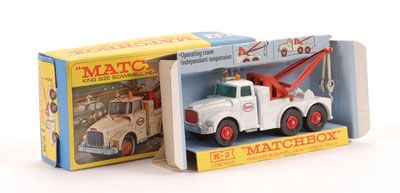 WWW.VECTIS.CO.UK
collectable toy specialists.
Lot 389 Matchbox - September 8th, 2009 Matchbox King Size No.K2 Scammell Contractor "Esso" Wreck Truck - white, red jib and plastic hubs with black tyres, green tinted windows with amber roof-lights - Excellent including inner pictorial stand, outer blue and yellow window box is Good Plus. Estimate: £20-£35 Bidding is now closed on this item Price Realised: £25



>