Matchbox King-Size No.K-18 Dodge Kew Fargo Articulated Horse Transporter
1966 saw the introduction of the Lesney Matchbox King-Size K-18 Dodge Kew Fargo Articulated Horse Transporter which was a British built 'Kew' Dodge of American design. It had a red painted cab fitted with silver plated airhorns to the roof and it had a clear plastic window unit, The grille, bumper and headlights were cast as part of the baseplate and the doors had a red & white decal showing a horses head design,
The tan painted trailer was permanantly attached to the tractor unit, It had a white plastic living area and clear plastic windows and sported an 'Ascot Stables' decal to each side, The drop down horse doors were silver-grey and it had small red plastic hubs with black plastic tyres, The Dodge had the same colour wheels & tyres but they were a larger size.
The trailer also had a seperate plastic interior for the stables area which can be found in many colours which I have listed as- grey, cream, red, grey-green, mustard yellow, dark green, maroon and brown and no doubt other colours not listed here exist as well. The model was sold with 4 white plastic Horses and it was packaged in E and F type window boxes, It was converted to Superfast wheels in 1971 and I believe the superfast issues all had dark green interiors.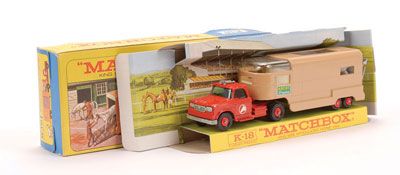 WWW.VECTIS.CO.UK
collectable toy specialists.
Lot 426 Matchbox - September 8th, 2009 Matchbox King Size No.K18 Dodge Kew Fargo Articulated Horse Transporter "Ascot Stables" - red including plastic hubs, tan trailer with silver doors, 4 x white plastic horses - Excellent, inner pictorial stand is Near Mint, outer blue and yellow window box is Good Plus to Excellent. Estimate: £30-£40 Bidding is now closed on this item Price Realised: £30



>