Matchbox King-Size No.K-17 Ford D800 Articulated Low Loader with Case Bulldozer
In 1966 Lesney released the Matchbox King-Size K-17 Ford D800 Articulated Low Loader with Case Bulldozer, The tractor and trailer were always painted green all over except for the yellow fuel tanks which when lifted would uncouple the tractor unit from the trailer, The baseplate was silver painted and it included the grille as part of the casting which meant it did not need silver trim, The cab was fitted with green tinted plastic windows and it had a red roof beacon. Both tractor and trailer were fitted with red plastic hubs with black plastic tyres which included a spare wheel mounted to the top of trailer.
The bulldozer had a red painted body with a yellow baseplate which included the engine and dozer blade as part of the casting, It also had yellow plastic rollers and a removable yellow metal cab roof and it was fitted with green rubber tracks which were replaced by black rubber tracks on the later issues. Both the the Tractor unit and the Bulldozer had decals for 'Laing' but later 'Taylor Woodrow' decals were fitted including extra decals applied to the back of the tractor cab and to the back of the Bulldozer cab, This set was packaged in E and F type window boxes and the F type box could also have a header card, It was converted to Superfast wheels in 1970/71 and was recoloured to lime trailer with a crimson or pink tractor unit.


Above: A period Lesney publicity picture.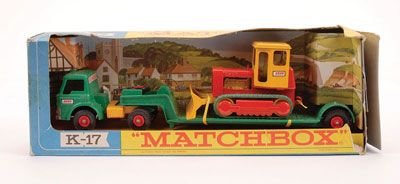 WWW.VECTIS.CO.UK
collectable toy specialists.
Lot 424 Matchbox - September 8th, 2009 Matchbox King Size No.K17 Ford D800 Articulated Low Loader with Case Bulldozer Load "Taylor Woodrow" - green, yellow, red - overall condition is generally Near Mint, inner pictorial stand is Excellent, outer window box is Fair. Estimate: £30-£40 Bidding is now closed on this item Price Realised: £35



>