Matchbox King-Size No.K-15 Merryweather Turntable Fire Escape
The Lesney Matchbox King-Size K-15 Merryweather Turntable Fire Escape joined the range in 1964, It had a red painted body and ladder turntable with a grey metal lower ladder and a grey plastic upper ladder, The cab was fitted with green plastic windows and was enhanced with silver trim to the front bumper, headlights and radiator grille, Shield decals were applied to the doors along with 'Kent Fire Brigade' to the sides of the body and 'No.18' to the sides of the cab, On the final issues labels replaced the decals and the red paint found on the labelled versions is a shade lighter than the earlier issues, Two gold coloured bells were attached to the roof and a gold coloured control panel was fixed to the turntable, The hubs were red plastic fitted with black plastic tyres, In 1970/71 the model was converted to superfast wheels, It was later recoloured to metallic red and it was also released as a 'Big MX' set complete with a plastic burning building, The Big MX sets are quite hard to find, It was packaged in E and F type boxes, The F type box was a window box that can be with or without a header card attached. The model was finally deleted in 1973 to make way for the Londoner bus.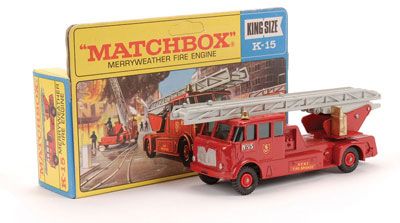 WWW.VECTIS.CO.UK
collectable toy specialists.
Lot 422 Matchbox - September 8th, 2009 Matchbox King Size No.K15 Merryweather Fire Engine "Kent Fire Brigade" - red including plastic hubs with black tyres, grey ladders - Near Mint including blue and yellow window box. Estimate: £30-£50 Bidding is now closed on this item Price Realised: £50



>