Matchbox King-Size No.K-11 DAF Articulated Car Transporter
In 1969 the Lesney Matchbox King-Size K-11 DAF Articulated Car Transporter replaced the Fordson Tractor & Trailer. The Daf always had red plastic hubs, black plastic tyres and a white interior, The windows can be clear plastic or light blue tinted plastic and it appears that both types are equally as common. The trailer also had a pair of black hydrosleeves attached to each side to enable the trailer to stay in the raised position. The first colour scheme was a metallic blue cab with a gold trailer, It had a blue and silver foil 'DAF' label on each side of the trailer and the trailer wheel blocks were black plastic.
The second regular wheeled colour scheme was a yellow cab and trailer upper deck with an orange trailer lower deck and the wheel blocks were originally black but later they were changed to red, A pre production version is also known with metallic blue cab with silver trailer that did not have labels or plastic wheel blocks and the trailer ramp was metallic blue like the cab and it should be noted that this variation is wrongly listed as having a silver cab rather than a silver trailer in the 40 year book,
The model was packaged in F type window boxes, It was later changed to superfast wheels and it can be found with a yellow and orange or a yellow and red trailer. It was deleted to make way for the Beakdown Truck in 1976.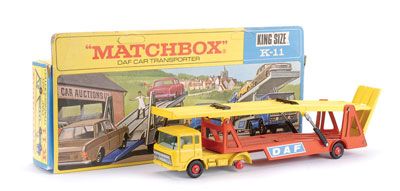 WWW.VECTIS.CO.UK
collectable toy specialists.
Lot 2241 Matchbox Toys - March 24th, 2009 Matchbox King-Size No.K11 DAF Car Transporter - yellow cab and upper ramp, orange lower trailer, red plastic hubs with black tyres (2 missing), black plastic clips - overall condition is generally Excellent in Good Plus (although requires slight attention in cleaning), blue and yellow window box Estimate: £15-£30 Bidding is now closed on this item Price Realised: £20



>