Matchbox King-Size No.K-11 Fordson Tractor and Farm Trailer
In 1963 the Lesney Matchbox King-Size K-11 Fordson Tractor and Farm Trailer joined the range which being a Farm vehicle was a step away from the usual construction vehicles that the King-Size range had featured so far, The Tractor was always painted blue and the trailer had a blue chassis with a grey tipper body. Silver trim was applied to the tractor radiator grille and the sides of the engine cover carried red and white 'Fordson Super Major' decals, The hubs can be red or orange and both types seem to have been in use for the life of the model, The tyres were black plastic and the trailer had a white plastic towing eye. The earlier issues had an unpainted metal steering wheel while the later issues had a blue painted metal steering wheel. Of course with the trailer having a tipping hopper it was fitted with the recently introduced hydrosleeves to hold the hopper in the raised position. This model lasted until 1969 when it was replaced by the DAF Car Transporter and being that it was in the range for longer than most models it was packaged in 4 different box types, D, E, F and window boxes with the D type box being the hardest one to find.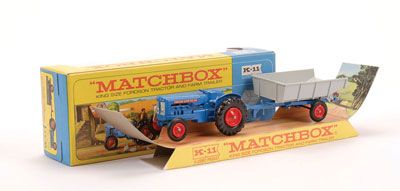 WWW.VECTIS.CO.UK
collectable toy specialists.
Lot 416 Matchbox - September 8th, 2009 Matchbox King Size No.K11 Fordson Super Major Tractor and Farm Tipping Trailer - blue including steering wheel, grey, red plastic hubs with black tyres - Near Mint (couple of minor marks to steering wheel), inner pictorial stand is Near Mint, outer blue and yellow window box is Excellent Plus. Estimate: £60-£70 Bidding is now closed on this item Price Realised: £60



>