Matchbox King-Size No.K-10 Scammell Contractor Pipe Truck
1967 saw the Lesney Matchbox King-Size K-10 Scammell Contractor Pipe Truck replace the Aveling Barford Tractor Shovel, The Pipe Truck was painted yellow and it had red plastic tyres and black plastic wheels, The tractor unit had silver metal airhorns, bumper and headlights with the bumper and headlights being part of the baseplate casting, It was fitted with dark green tinted plastic windows and it had a black grille and a black decal adorned both doors, Both the tractor unit and the trailer had an unpainted metal pipe carrier and the trailer was attached to the tractor unit by a white plastic hook,
The earliest issues had a light grey pipe load while the later ones had dark grey pipes and the door decals were replaced by door labels, The baseplate can be un-numbered or K10-K19 and the suspension can be green or clear plastic.
It was packaged in F type boxes and the later issues had a header card. In 1970/71 the model was adapted to take superfast wheels and was recoloured to pinkish purple with grey or yellow pipes or metallic purple with orange or yellow pipes. It was deleted in 1976 to make way for the Car Transporter.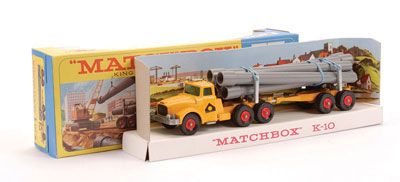 WWW.VECTIS.CO.UK
collectable toy specialists.
Lot 414 Matchbox - September 8th, 2009 Matchbox King Size No.K10 Scammell Contractor Pipe Truck - yellow, red plastic hubs with black tyres, 6 x grey plastic pipes - Excellent Plus, inner pictorial stand is Near Mint, outer blue and yellow window box is Excellent (does have small tear to cellophane). Estimate: £30-£40 Bidding is now closed on this item Price Realised: £35



>