Matchbox King-Size No.K-1 O&K Hydraulic Excavator
1970 saw the Lesney Matchbox King-Size K-1 O&K Hydraulic Excavator replace the Hoveringham tipper, The Excavator had a red body with a silver grey Jib, It had red plastic hubs with black plastic tyres and the cab had amber tinted windows. The jib had no less than three hydrosleeves keeping the jib in position and the Jib had red and white 'MH6' labels while the sides of the cab had a red and white label with 'O&K' inside a diamond shape. The model was packaged in F type window boxes that had a headercard, It 1971 the model was converted to superfast wheels, It kept it's red & silver grey from the regular wheeled model but the superfast issue can be found with red and white or yellow and black 'O&K' labels and amber or clear windows. The earliest design for the O&K Excavator had only two hydrosleeves as the two upper parts of the jib were cast as one piece, It is not known wether any of these one piece jibs actually got into circulation.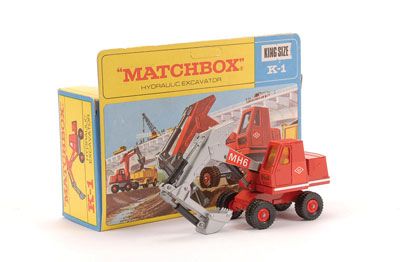 WWW.VECTIS.CO.UK
collectable toy specialists.
Lot 387 Matchbox - September 8th, 2009 Matchbox King Size No.K1 Hydraulic Excavator "O & K" - red including plastic hubs with black tyres, silver jib and bucket - Excellent in Good Plus to Excellent blue and yellow window box (does have small mark to front where price label has been removed at some time. Estimate: £20-£30 Bidding is now closed on this item Price Realised: £25



>