Matchbox King-Size No.K-1 Foden 'Hoveringham' Tipper Truck
1964 saw the Lesney Matchbox King-Size Foden 'Hoveringham' Tipper Truck replace the Weatherill at number K-1. The Hoveringham always had a dark red cab and an orange tipper body & tailgate, The hubs were red plastic with black plastic tyres and the sides of the tipper were adorned with orange and black 'Hoveringham' labels while the tipper body had the usual hydrosleeve to hold the tipper in the raised position, The cab roof had plated air horns and either light or dark green tinted windows were fitted, The silver trim to the cab can be either to the bumper, grille and headlights or the grille and headlights or just the grille and the baseplate can be found in gloss or mat black, Finally the plastic suspension springs can be found in clear, white, green, red or grey plastic, The model was packaged in D, E or F type boxes and the F box can be with or without a header card, The model was replaced by the O & K Excavator in 1970. The Hoveringham Tipper was also released as a promotional issue for the Hoveringham Gravels Company Limited which was packaged inside a box that was illustrated with the Hoveringham trademark - the Mammoth.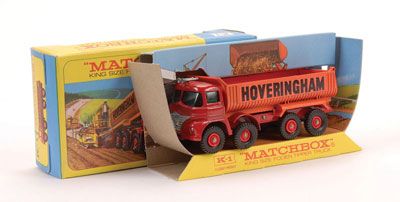 WWW.VECTIS.CO.UK
collectable toy specialists.
Lot 386 Matchbox - September 8th, 2009 Matchbox King Size No.K1 Foden "Hoveringham" Tipper Truck - red cab, chassis and plastic hubs with black tyres, orange black, side labels, white plastic suspension clips - Near Mint, inner pictorial stand is Near Mint, outer blue and yellow window box is Excellent. Estimate: £30-£40 Bidding is now closed on this item Price Realised: £70



>