>

Meccano Dinky diecast No.22 Motor Vehicles Gift Set



1933-35
6 piece motor vehicles gift set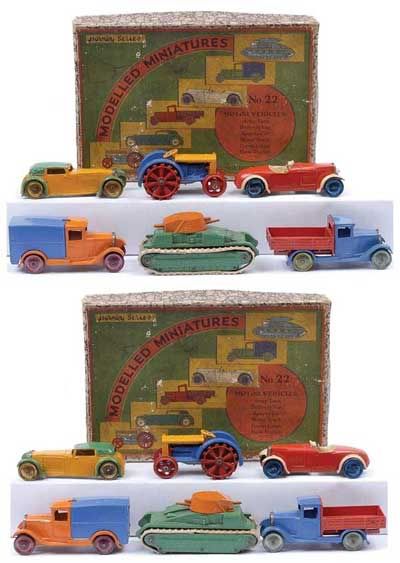 WWW.VECTIS.CO.UK
collectable toy specialists.
Lot 3586 Dinky Toys - March 12th, 2008 Dinky (Hornby Series) No.22 Motor Vehicles Gift Set - scarce pre-war set c.1933-1935 contains the following - No.22A Open Sports Car - red, cream interior and wings, blue wheels, some chipping to wheels and small windscreen surround is detached but present (in a sealed bag); No.22B closed Sports Coupe - yellow, green roof and wings, with yellow effect to wheels; No.22C Motor Truck - powder blue cab and chassis, red rear body, with bluish green effect to wheels; No.22D Delivery Van - orange cab and chassis, plain blue van body, red effect to wheels, tinplate radiator surround; No.22E Farm Tractor - mid blue engine and rear wing assembly casting, with yellow engine cover, red wheels; and No.22F Army Tank - mid green, with orange turret, includes hard white rubber tracks which have had some discreet repair - otherwise the contents are Excellent to Near Mint examples from the "Model Miniatures" period, having cast lead bodies with "Hornby Series" cast into their bases. All is contained in a blue mottled effect box with illustrated label to lift off lid, with inner card divisions depicting the contents which are Fair to Good. Estimate: £8000-£10000 Bidding is now closed on this item Price Realised: £9000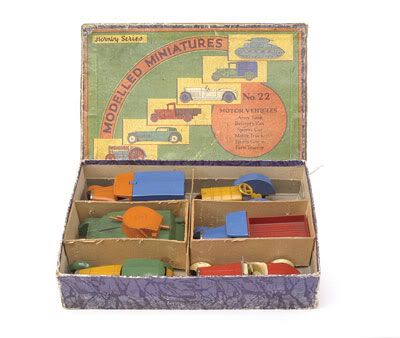 WWW.VECTIS.CO.UK
collectable toy specialists.
Lot 35 Dinky Toys - Pre-war - September 10th, 2003 No.22 Modelled Miniatures Motor Vehicle Set containing No.22a Sports Car - red, cream interior, radiator and wings; No.22b Sports Coupe - yellow with green wings and roof; No.22c Motortruck - blue cab and chassis, red back; No.22d Delivery Van - orange cab and chassis, blue back; No.22e Farm Tractor - yellow, blue engine and wings, red wheels and No.22f Army Tank - green with orange turret (no tracks) - all with "Hornby Series" to base - in correct box with original card dividers - box lid has been repaired - contents are Excellent to Near Mint, box is Good. A rare opportunity to require a scarce set in superb condition. Estimate: £5000 - £7000 Bidding is now closed on this item Price Realised: £11000