Meccano Dinky diecast No.33e Dinky Mechanical Horse Dust Wagon Trailer



1935-40
grey or green body, blue, yellow or green top
yellow or blue body, blue top
1946
grey or red body, blue top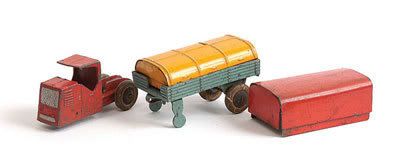 WWW.VECTIS.CO.UK
collectable toy specialists.
Lot 1336 Simply Dinky 13 - November 7th, 2006 Dinky - pre-war Mechanical Horse and Dust Wagon Trailer. Comprising No.33A Mechanical Horse - red and No.33E Dust Wagon Trailer - turquoise, with yellow tinplate top - both vehicles have black smooth hubs with thin axles and (cracked) white smooth tyres. Also included is a spare red tinplate tilt - Fair to Good lot. (3) Estimate: £120-£170 Unsold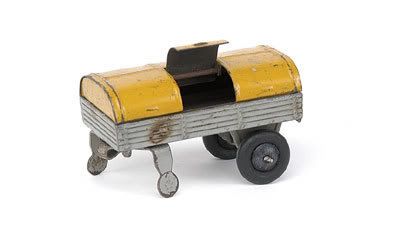 WWW.VECTIS.CO.UK
collectable toy specialists.
Lot 10 Dinky Toys - Pre-war - September 10th, 2003 No.33e Dust Wagon Trailer - grey, yellow tin top, black smooth hubs - Good. Estimate: £50 - £70 Bidding is now closed on this item Price Realised: £140