Mettoy Corgi Toys No.GS38 Gift Set Mini 1000 & camping tent 1977-78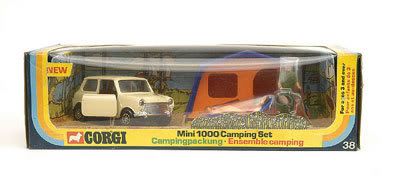 WWW.VECTIS.CO.UK
collectable toy specialists.
Lot 105 The East Lothian Collection - March 15th, 2005 No.GS38 Gift Set comprising of Mini 1000 - beige, red interior, whizzwheels and camping tent with accessories - overall condition is generally Mint inner pictorial stand is Near Mint outer window box is Excellent (although has been professionally recellophaned at some time). Estimate: £60 - £80 Bidding is now closed on this item Price Realised: £90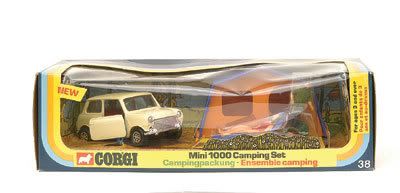 WWW.VECTIS.CO.UK
collectable toy specialists.
Lot 2386 Corgi Toys - December 15th, 2004 No.GS38 "Camping Set" comprising of Mini 1000 - cream, red interior, chrome trim and Tent with figures - Mint in Excellent Plus striped window box. Estimate: £60 - £70 Bidding is now closed on this item Price Realised: £70
>