Mettoy Corgi Toys No.GS35 "Chopper Squad" 1978-79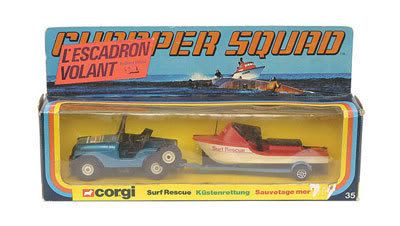 WWW.VECTIS.CO.UK
collectable toy specialists.
Lot 150 The Peter Cole Collection - July 9th, 2007 Corgi - No.GS35 "Chopper Squad" Gift Set comprising of Jeep - finished in metallic blue with trailer and Surf Rescue Boat - red, white, black - Excellent Plus in Good striped window box (replacement cellophane). Estimate: £30-£40 Bidding is now closed on this item Price Realised: £25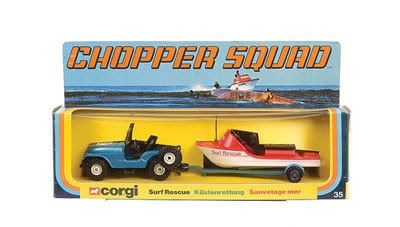 WWW.VECTIS.CO.UK
collectable toy specialists.
Lot 2708 The Channel Islands Collection - September 13th, 2006 Corgi - No.GS35 "Chopper Squad" 2-piece Gift Set comprising of Jeep with Surf Rescue Boat on Trailer - blue, red, white, black - Mint in Excellent window box with colour picture header card. Estimate: £40-£50 Bidding is now closed on this item Price Realised: £35
>