Mettoy Corgi Toys GS25 Gift Set VW Breakdown Truck & Cooper Maserati 1969-71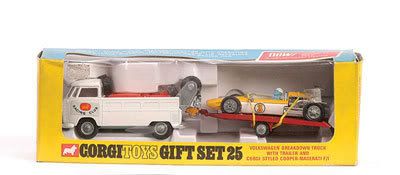 WWW.VECTIS.CO.UK
collectable toy specialists.
Lot 1198 Corgi Toys - August 16th, 2006 Corgi No.GS25 Gift Set comprising of VW Breakdown Truck - white, red interior, cast hubs "Racing Club" - complete with Cooper Maserati Formula 1 Racing Car - yellow, white, racing number 3, cast hubs - comes complete with trailer finished in red and cast hubs - overall condition is generally Excellent to Mint, inner plastic tray is Near Mint, outer blue and yellow window box is Good - still displays well. Estimate: £120-£160 Bidding is now closed on this item Price Realised: £140
>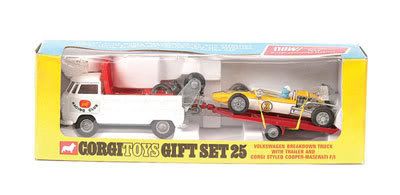 WWW.VECTIS.CO.UK
collectable toy specialists.
Lot 1620 The Racing & Sports Car Collection - January 18th, 2006 Corgi Toys - GS25 Racing Team Transporter Set containing (1) VW Transporter Breakdown Tender - white, red interior, "Corgi Racing Club" door labels, 2 x spare tyres, spun hubs, (2) Cooper Maserati F1 Racing Car - orange-yellow, white, racing number 3, cast hubs, (3) single axle Car Transporter Trailer - red, cast hubs - contents Near Mint to Mint in Good Plus blue and yellow window box (minor ink graffiti to base), inner vac-form tray is Near Mint. Estimate: £120 -£150 Bidding is now closed on this item Price Realised: £240
>