Mettoy Corgi Toys No.GS23 "Spiderman's" Gift Set 1980-82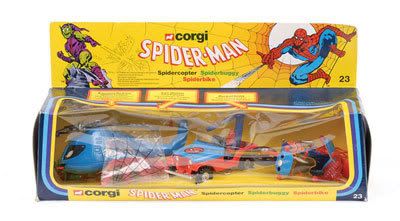 WWW.VECTIS.CO.UK
collectable toy specialists.
Lot 1008 TV & Film Related - August 15th, 2007 Corgi - No.GS23 "Spiderman" 3 piece Gift Set comprising of Spidercopter, Spiderbike and Spiderbuggy with green goblin figure and net - all are mainly finished in red and blue, conditions are generally Near Mint to Mint in Good Plus although crushed striped window box. Estimate: £150-£200 Bidding is now closed on this item Price Realised: £200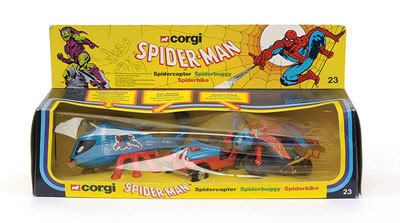 WWW.VECTIS.CO.UK
collectable toy specialists.
Lot 126 The Peter Cole Collection - July 9th, 2007 Corgi - No.GS23 "Spiderman's" Gift Set comprising of 3 pieces including Spiderbike, Jeep with green Goblin and Spidercopter - all finished in red and blue - overall conditions are Near Mint to Mint in Good Plus striped window box (could be better if slight time spent in cleaning and resticking front cellophane) - still a hard set to find. Estimate: £150-£200 Bidding is now closed on this item Price Realised: £340
>