Mettoy Corgi Toys No.GS20 "Golden Guinea" 1961-64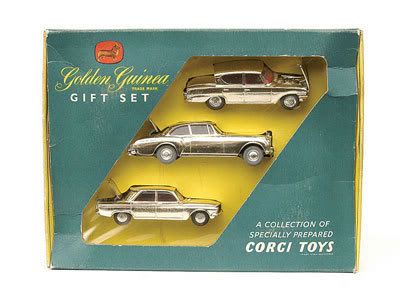 WWW.VECTIS.CO.UK
collectable toy specialists.
Lot 494 The Joyce Peterzell Corgi Collection - January 18th, 2005 No.GS20 "Golden Guinea" 3 piece set comprising - Ford Consul Classic, Bentley Continental Sports Saloon and Chevrolet Corvette - all have gold plated finish with red interior - overall conditions generally Excellent to Excellent Plus in Good slide out presentation window box. Estimate: £100 - £140 Bidding is now closed on this item Price Realised: £190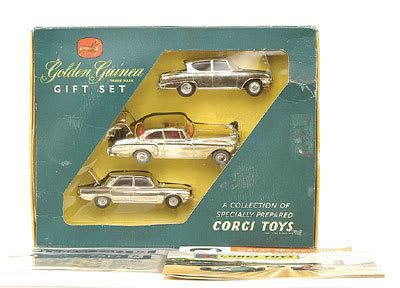 WWW.VECTIS.CO.UK
collectable toy specialists.
Lot 179 The Stephen Hunter Corgi Collection - June 8th, 2004 No.GS20 "Golden Guinea" Set comprising of Ford Consul Classic, Bentley Continental Sports Saloon and Chevrolet Corvair - all have a gold plated finish with red interior - overall conditions are generally Mint, inner carded tray is Excellent, outer presentation window box is Good - comes complete with Corgi Model Club Magazine and catalogue 1961 plus various unapplied self adhesive accessory packs - which are all Mint - Good example of a hard to find set. Estimate: £150 - £200 Bidding is now closed on this item Price Realised: £500
>