Mettoy Corgi Toys No.GS20 Transporter Gift Set 1970-73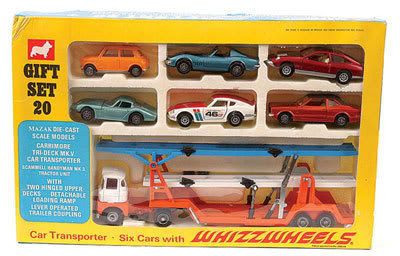 WWW.VECTIS.CO.UK
collectable toy specialists.
Lot 4101 The Florida Collection - May 18th, 2006 Corgi - No.GS20 Transporter Gift Set comprising of Morris Mini Minor - burnt orange, red interior, Chevrolet Corvette Stingray Coupe - blue, black bonnet and interior, Marcos Mantis - dark red, off white interior, Marcos 3ltr - aqua blue, black interior, Datsun 240Z - red, white, Ford Cortina - metallic bronze, black roof and Scammell Handyman Tri-Deck Car Transporter - orange, white, blue, black plastic clips, cast hubs - conditions are generally Excellent to Mint, inner polystyrene tray is Near Mint, blue and yellow lift off lid is Good complete with correct instruction sheet. Estimate: £200 -£260 Bidding is now closed on this item Price Realised: £420
WWW.VECTIS.CO.UK
collectable toy specialists.
Lot 4102 The Florida Collection - May 18th, 2006 Corgi - No.GS20 Car Transporter Gift Set comprising of Morris Mini Minor - burnt orange, red interior, Chevrolet Corvette Stingray Coupe - blue, black interior and bonnet, Marcos Mantas - dark red, cream interior, Marcos 3ltr - aqua, black interior, Datsun 240Z - red, white, Ford Cortina - metallic bronze, black roof and Scammell Handyman Tri-Deck Car Transporter - white, orange, blue, cast hubs, black plastic clips - conditions are generally Good Plus to Near Mint, inner polystyrene tray is Excellent, outer blue and yellow lid is Fair but complete - also comes complete with correct instruction sheet. Estimate: £170 -£220 Bidding is now closed on this item Price Realised: £340
>