Mettoy Corgi Toys No.GS18 "SOS" Gift Set 1975-80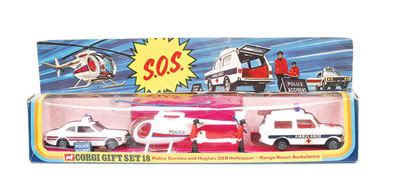 WWW.VECTIS.CO.UK
collectable toy specialists.
Lot 652 The Ron Slyder Collection - April 10th, 2007 Corgi - No.GS18 "SOS" Gift Set comprising of Ford Cortina "Police" Car, Range Rover "Ambulance", Hughes "Police" Helicopter plus various accessories - conditions are generally Near Mint to Mint, inner polystyrene tray is Excellent Plus, outer striped window box is Good. Estimate: £50-£60 Bidding is now closed on this item Price Realised: £80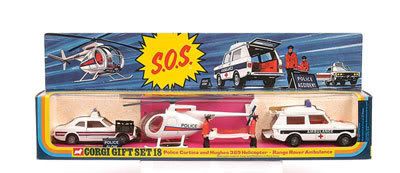 WWW.VECTIS.CO.UK
collectable toy specialists.
Lot 2697 The Channel Islands Collection - September 13th, 2006 Corgi - No.GS18 "SOS" Emergency Gift Set comprising of 3 vehicles to include, (1) Ford Cortina "Police" Car, (2) Range Rover "Ambulance" and Hughes Helicopter "Police" - complete with correct figures and signs - overall condition is generally Mint including inner card and polystyrene tray, outer window box with picture header card is Excellent Plus - nice example. Estimate: £60-£70 Bidding is now closed on this item Price Realised: £70
>