Mettoy Corgi Toys No.851 "The Magic Roundabout" Train 1972-74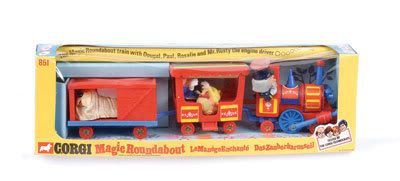 WWW.VECTIS.CO.UK
collectable toy specialists.
Lot 2408 TV & Film Related - December 13th, 2007 Corgi No.851 "The Magic Roundabout" - Train with Dougal, Paul, Rosalie and Mr Rusty - red, blue, yellow - Near Mint - still a superb example, inner card tray is Near Mint, outer blue and yellow window box is Excellent - see photo. Estimate: £200-£260 Bidding is now closed on this item Price Realised: £220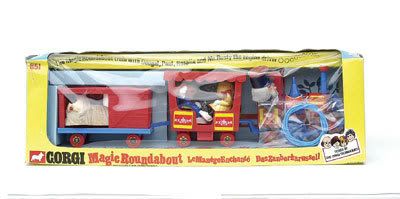 WWW.VECTIS.CO.UK
collectable toy specialists.
Lot 2304 The Dales Corgi Collection - November 10th, 2004 No.851 "The Magic Roundabout" - train with Dougal, Paul, Rosalie and Mr Rusty the engine driver - red, blue, yellow - Mint including pull along string, inner carded tray is also Mint, outer blue and yellow window box is Excellent (although slightly crushed in places) - becoming hard to find. Estimate: £200 - £250 Bidding is now closed on this item Price Realised: £300
>