Mettoy Corgi Toys No.71 wheel controlled Tandem Disc Harrow 1967-72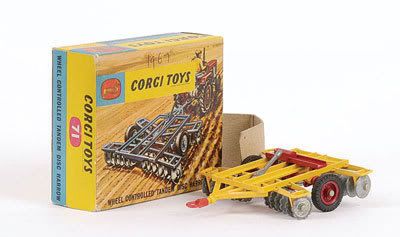 WWW.VECTIS.CO.UK
collectable toy specialists.
Lot 2351 The Channel Islands Collection - September 13th, 2006 Corgi - No.71 wheel controlled Tandem Disc Harrow - yellow, red, silver blades - although overall condition is generally Near Mint does have very slight surface corrosion to some bare metal parts in Excellent blue and yellow carded picture box. Estimate: £40-£50 Bidding is now closed on this item Price Realised: £40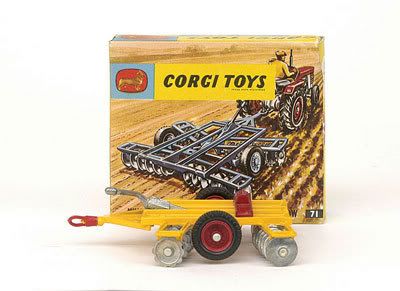 WWW.VECTIS.CO.UK
collectable toy specialists.
Lot 149 The Joyce Peterzell Corgi Collection - January 18th, 2005 No.71 Wheel Controlled Tandem Disc Harrow - yellow, red - Mint including inner packing card - outer blue and yellow picture box is Excellent (apart from slight damage to 1 corner). Estimate: £20 - £30 Bidding is now closed on this item Price Realised: £60
>