Mettoy Corgi Toys No.401 VW 1300 "Corgi Motor School" 1975-77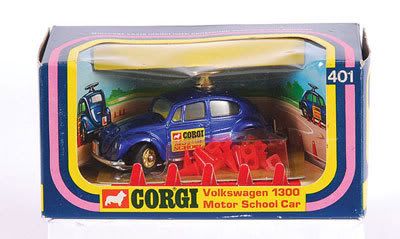 WWW.VECTIS.CO.UK
collectable toy specialists.
Lot 1125 The Ian Kirkwood Collection - March 13th, 2007 Corgi - No.401 VW 1300 "Corgi Motor School" - blue, lemon interior, gold cast hubs and roof turning disc - overall condition is generally Mint including inner carded tray complete with sealed cones, outer striped window box is Good Plus, still a nice example. Estimate: £60-£70 Bidding is now closed on this item Price Realised: £60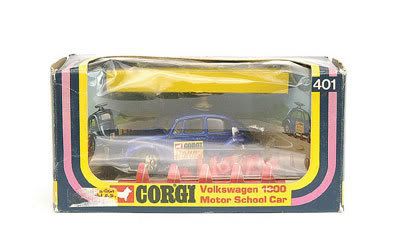 WWW.VECTIS.CO.UK
collectable toy specialists.
Lot 2215 The French Collection of Corgi Toys - April 14th, 2005 No.401 VW Beetle Motor School Car - metallic blue, yellow interior, gold cast hubs - Export "Fahr- Schule" issue - Excellent Plus complete with cones in Fair striped window box, inner pictorial stand is Excellent. Estimate: £20 - £30 Bidding is now closed on this item Price Realised: £30
>