Mettoy Corgi Toys No.271 Ghia 5000 Mangusta & De Tomaso chassis 1969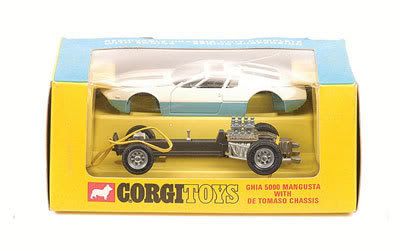 WWW.VECTIS.CO.UK
collectable toy specialists.
Lot 2011 Corgi Toys - February 14th, 2007 Corgi - No.271 Ghia 5000 Mangusta with De Tomaso chassis - white, blue, grey plastic aerial, graphite grey chassis finished with silver and chrome trim - Mint including inner plastic tray, outer blue and yellow window box is Near Mint - nice example. Estimate: £50-£70 Bidding is now closed on this item Price Realised: £50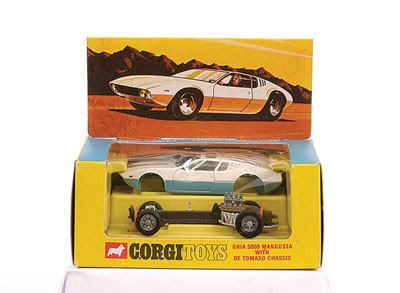 WWW.VECTIS.CO.UK
collectable toy specialists.
Lot 2559 The Channel Islands Collection - September 13th, 2006 Corgi - No.271 Ghia 5000 Mangusta with De Tomaso chassis - white, blue, grey aerial - Mint, inner plastic tray is Near Mint, outer blue and yellow window box is Excellent Plus (apart from slight crushing to front cellophane) complete with detachable header card - nice example of a harder issue box to find. Estimate: £100-£140 Bidding is now closed on this item Price Realised: £190
>
WWW.VECTIS.CO.UK
collectable toy specialists.






Lot 407 Corgi "50th Anniversary Collection" - July 11th, 2006 Corgi - No.271 Ghia 5000 Mangusta with De Tomaso chassis - white, blue, grey aerial - Mint including inner plastic tray, outer window box is Near Mint - superb example. Estimate: £50-£70 Bidding is now closed on this item Price Realised: £120

>


WWW.VECTIS.CO.UK
collectable toy specialists.






Lot 378 The Joyce Peterzell Corgi Collection - January 18th, 2005 No.271 Ghia 5000 Mangusta with D Tomaso chassis - white, blue - overall condition is generally Excellent (aerial broken) inner plastic tray is Good Plus including outer blue and yellow window box. Estimate: £30 - £40 Bidding is now closed on this item Price Realised: £30


>




WWW.VECTIS.CO.UK
collectable toy specialists.






Lot 379 The Joyce Peterzell Corgi Collection - January 18th, 2005 No.271 Ghia 5000 Mangusta with D Tomaso chassis - white, blue - overall condition is generally Near Mint (apart from broken aerial) inner plastic tray is Excellent, outer blue and yellow window box is Good Plus (small hole to front cellophane). Estimate: £30 - £40 Bidding is now closed on this item Price Realised: £30




WWW.VECTIS.CO.UK
collectable toy specialists.






Lot 69 The Stephen Hunter Corgi Collection - June 8th, 2004 No.271 Ghia 5000 Mangusta with D Tomaso chassis - white, blue - Mint including inner plastic tray, outer blue and yellow window box is Good Plus - still a good example. Estimate: £50 - £60 Bidding is now closed on this item Price Realised: £40