Mettoy Corgi Toys No.1362 "James Bond" Lotus Esprit 2 piece set 1982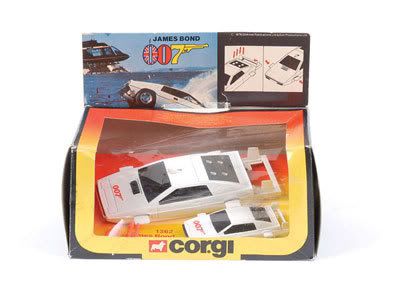 WWW.VECTIS.CO.UK
collectable toy specialists.
Lot 1084 James Bond Related - August 15th, 2007 Corgi - No.1362 "James Bond" Lotus Esprit Little & Large Set taken from the film "The Spy Who Loved Me" - white, black, some missile still attached to sprue - Near Mint to Mint in Good later issue window box with detachable header card. Estimate: £100-£120 Bidding is now closed on this item Price Realised: £100
>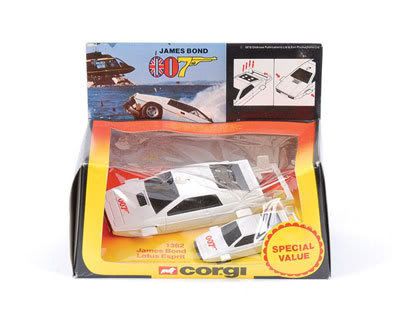 WWW.VECTIS.CO.UK
collectable toy specialists.
Lot 1085 James Bond Related - August 15th, 2007 Corgi - No.1362 "James Bond" Lotus Esprit Little & Large Set taken from the film "The Spy Who Loved Me" - white, black - both are generally Mint in Good Plus (although slightly crushed) later issue window box with detachable header card. Estimate: £100-£120 Bidding is now closed on this item Price Realised: £140
>