Mettoy Corgi Toys No.1135 Bedford TK Heavy Equipment Transporter 1965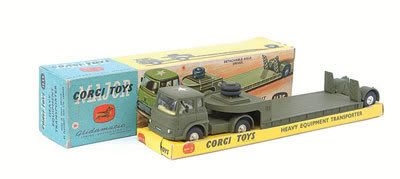 WWW.VECTIS.CO.UK
collectable toy specialists.
Lot 482 The Ron Slyder Collection - April 10th, 2007 Corgi - No.1135 Bedford TK Heavy Equipment Transporter - military green, lemon interior with plastic figure driver, spun hubs, white 5 pointed star decal to roof - Mint, inner carded tray is Excellent including inner packing card, outer blue and yellow carded picture box is Good. Estimate: £110-£130 Bidding is now closed on this item Price Realised: £380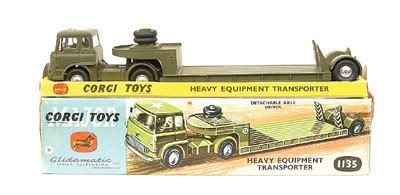 WWW.VECTIS.CO.UK
collectable toy specialists.
Lot 173 The Stephen Hunter Corgi Collection - June 8th, 2004 No.1135 Bedford Heavy Equipment Transporter - military green, spun hubs, red interior - Mint, inner carded stand is Excellent, outer blue and yellow picture box is Good Plus - also comes complete with inner packing card. Estimate: £110 - £130 Bidding is now closed on this item Price Realised: £280
>