Mettoy Corgi Toys No.1131 Bedford TK Carrimore machinery carrier 1963-66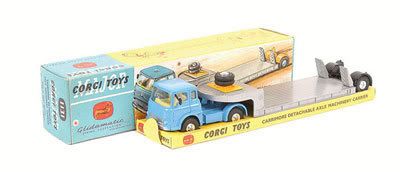 WWW.VECTIS.CO.UK
collectable toy specialists.
Lot 2028 Corgi Toys - February 14th, 2007 Corgi - No.1131 Bedford TK Carrimore detachable axle machinery carrier - blue cab, lemon interior, silver black and yellow Trailer, spun hubs - Mint including inner carded packing and tray, outer blue and yellow carded box is Excellent - nice example. Estimate: £130-£160 Bidding is now closed on this item Price Realised: £180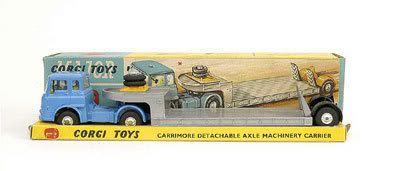 WWW.VECTIS.CO.UK
collectable toy specialists.
Lot 102 The East Lothian Collection - March 15th, 2005 No.1131 Bedford TK Machinery Carrier - blue cab, silver black and yellow trailer - Mint including inner card packing, tray is Excellent Plus outer blue and yellow picture box is Good Plus - still a nice example. Estimate: £100 - £130 Bidding is now closed on this item Price Realised: £170
>