Matchbox Superfast MB64-b MG 1100





The #64 MG1100 was converted to join the SuperFast range in 1970 but only remained in production for a year. Initially it was packaged in ´F´ boxes featuring the emerald green regular wheels colour on the artwork, before ´G´ boxes featuring the newly selected deep blue clearcoat over silver primer colour were ready.
Many blue cars were packaged in green ´F´ boxes indicating that this uncommon box was more numerous than the green Superfast cars. It was also packed in USA and Canada blisterpacks with copyright dates 1969 and 1970.

Vectis have sold a green pre-production fitted with solid white wide 10mm x 4mm 5 slot wheels which never appeared on the mass production versions, all of which looked rather ungainly on their normally hollow thin 10.5x2mm 5 slots. Examples with solid wheels exist as do survivors of a short run of green bodies with 11.2x2mm 5 slots.
Lesney chose a unique blue clearcoat for the MG which was one tone darker than that applied to the #69 Rolls convertable and 2 tones darker than the #25 Cortina GT although a minority of blue MGs were painted in the lighter Rolls shade just as a minority of the #69 Rolls and #25 Cortina GT were painted in the darker MG shade.

The glazing and seats remained unchanged from the regular wheels issue, and oddly enough Majorette copied the dog looking out of the back window on their new for 1972 Fiat 127 casting , clearly an homage to Lesney and perhaps even made as a mark of respect on the news of initial retirement of Jack Odell because the timeline fits!.
Lesney made no further use of this tooling but Maxwell of India copied the bodyshell precisely and issued it in large volumes in the 1970s usually painted metallic maroon with wide wheels and a chrome plastic baseplate.




Above: The green MG with it's correct F type box is the toughest version to find.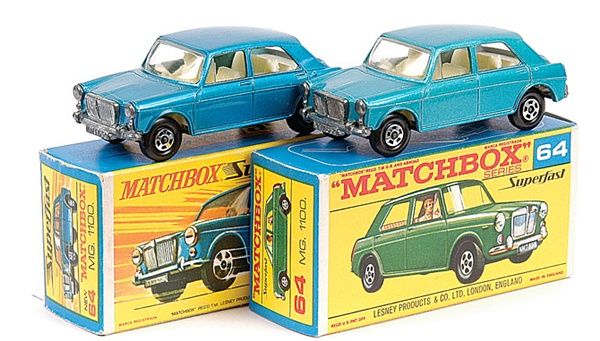 Above: Left, a dark metallic blue MG with 10.5x2mm wheels and it's G type box together with another but in a lighter metallic blue with smaller 9.5x2mm wheels and it's correct F type box.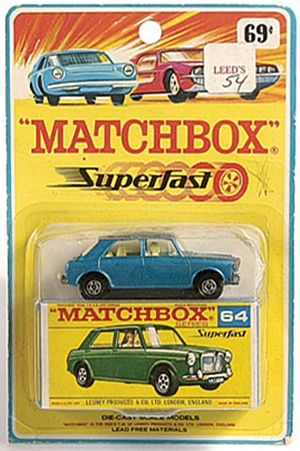 Above: A blister packed model.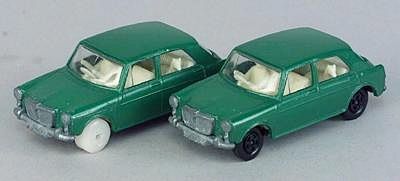 Above: A pre production model with wider white plastic wheels.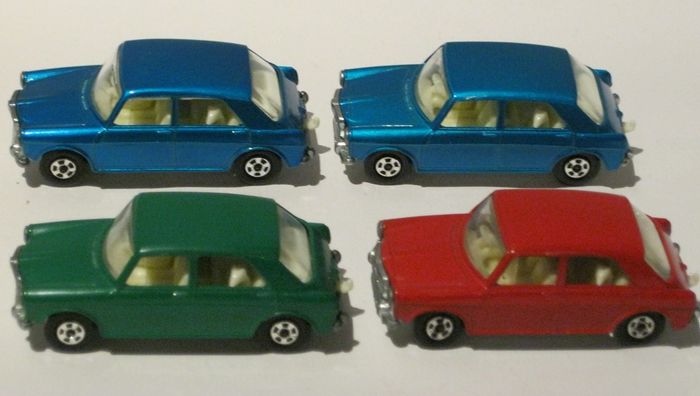 Above: The green, light and dark blue MG's together with a pre production model in red.
photo courtesy Nigel Cooper.
| | | |
| --- | --- | --- |
| code number | colour | wheels |
| code 4 | green | 11.2x2mm 5 slot |
| code 5 | green | 10.5x2mm 5 slot |
| code 6 | light metallic blue | 10.5x2mm 5 slot |
| code 7 | dark metallic blue | 10.5x2mm 5 slot |
Values based on Vectis actual selling prices.
green gloss - £150-£170
light or dark metallic blue - £25-£35