Matchbox Superfast 59-c Ford Galaxie Fire Chief





Modern collectors are often surprised that the Ford Galaxie Fire chief was not deleted but instead one of the earlier conversions to SuperFast when its replacement the Mercury had already replaced the Galaxie as Lesney´s sole Police car.
It can be found packaged in ´F´ or ´G´ boxes as well as USA or Canada blisterpacks with copyright dates between 1969 and 1971.

Lesney chose a brighter shade of red for the SuperFast issues of the Galaxie Fire Chief however as with the #57 Fire Land Rover very hard to find crossovers exist with standard Regular wheels darker shade of red bodies.
A minority of Fire Chiefs also feature bonnet decals leftover from the Regular wheels production although all door shields are paper stickers.
This was one of a number of castings given a special Lyon´s tea sticker as part of a 1970 promotion but these are extremely hard to find now.

All SuperFast Galaxies featured Lesney´s plastic sprung suspension system that also retained the axle sets which were all fitted with 11 x2mm 5 slot solid or hollow hot foiled wheels.
Glazing and blue roof light were identical to the Regular wheels issues although the seats no longer needed to support the regular wheels suspension strips.
No further use was ever made of this tooling once it was deleted from the 1-75 series in 1971 upon replacement by the Mercury.



Above: Two Galaxies with their G and F type boxes.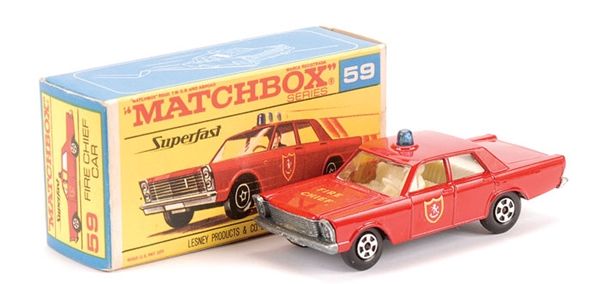 Above: The first release was in red with Fire Chief decals on the bonnet and labels on the doors. All Fire Chiefs had 11x2mm wheels, clear windows, ivory interiors, plated baseplates and blue dome lights.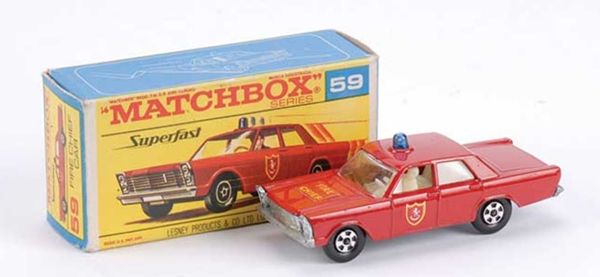 Above: The later versions had all label decorations with or without a bonnet label.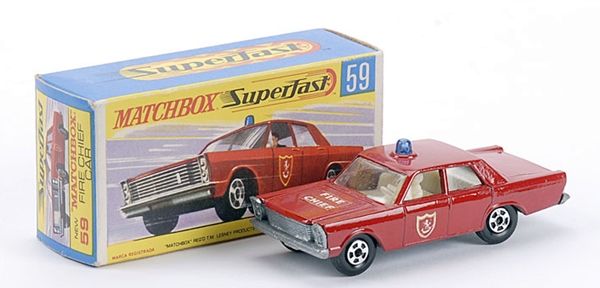 Above: The dark or dull red Galaxie had labels all round.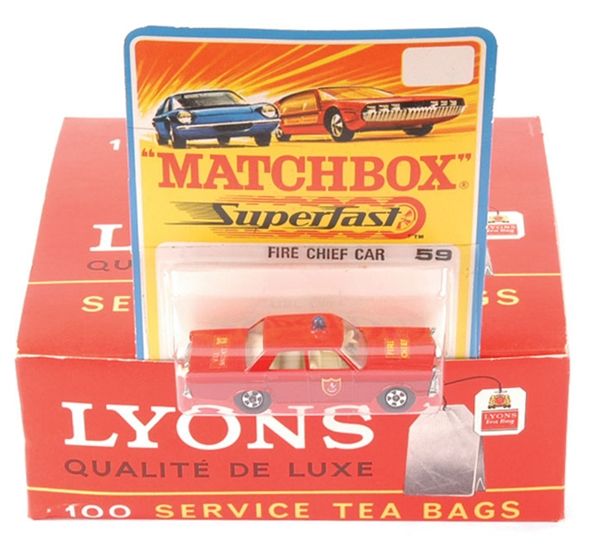 Above: This is a very rare promotional issue that was released in the Netherlands
and Belgium by the Lyons Tea co in 1970, The Galaxie had a Lyons Tea label
applied to the boot (trunk) and the reverse of the blister pack was printed with
information on Lyons Tea, This blister packed Galaxie sold for an amazing
£1100 but the sale did include an original 40 year old box of tea bags.
code
number

body colour

wheels

wheel strip
colour

decals / labels
bonnet - - - doors - - - other

code 10

red gloss

11x2mm 5 slot

tan

decal - - - labels - - - none

code 11

red gloss

11x2mm 5 slot

tan

label - - - labels - - - none

code 12

red gloss

11x2mm 5 slot

black

label - - - labels - - - none

code 13

red gloss

11x2mm 5 slot

tan

none - - - labels - - - none

code 14

dark red gloss

11x2mm 5 slot

tan

label - - - labels - - - none

code 15

red gloss

11x2mm 5 slot

tan

label - - - labels - - Lyons tea label
Values based on Vectis actual selling prices.
red, bonnet decals - £40-£50
red or dark red, bonnet labels - £25-£35
red, bonnet labels, Lyons label - £900-£1100