Matchbox Superfast MB54-b Cadillac Ambulance





The Cadillac ambulance was joined the Superfast range in 1970 for a brief run in 1970 before being deleted later in the year.
It was packaged in G boxes or USA or Canada blisterpacks with copyright dates 1969 or 1970 and is one of the most hard to find still in its original package.
It was always painted brilliant white but has proven very susceptible to heat and light fade so discoloured examples are now very common and are generally assumed to be genuine off white examples although the paint does not seem a good match for the real Lesney off-white shades used on the no.3 Binz or no.5 VW.
This also applies to the interior which is white plastic which can, if left in direct sunlight darken to an off white or cream colour.
This was one of the last few castings in the 1-75 series to have mask sprayed silver trim, around half of the production has silver trim applied to the front grille which may be that they were simply using bodies left over from the regular wheel era.
This casting had a much changed baseplate with much higher ride height to accomodate 9.5x2mm 5 slot thin wheels which were normally hollow but occasional examples with solid wheels are found.
Most examples had the correct small red cross sticker fitted to each front door but it is not hard to find examples (both with or without silver grilles) fitted with the larger red crosses on the door which were primarily intended for use on the no3 Binz ambulance



Above: A pair of Cadillacs, One with silver trim and one without, One has small labels and one has large labels.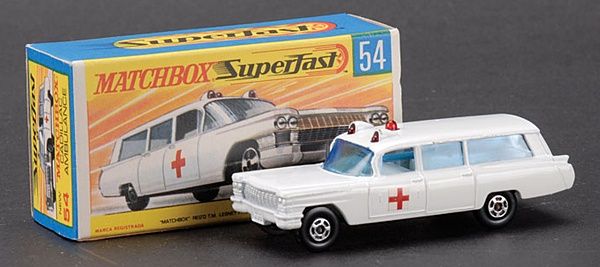 Above: With silver trim and small labels.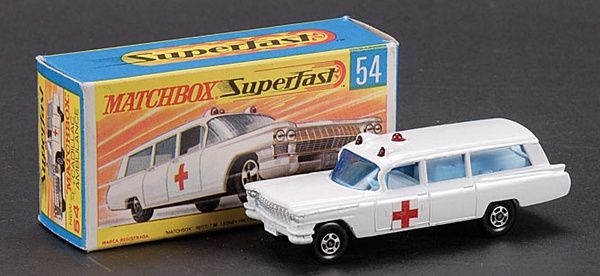 Above: With silver trim and large labels.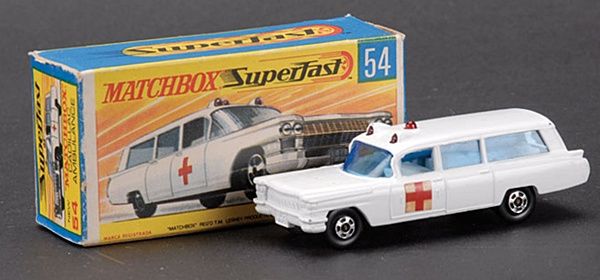 Above: The Cadillac without silver trim and large labels, Note how the label is discoloured, This will usually happen when the model is washed in water.
| | | | | | |
| --- | --- | --- | --- | --- | --- |
| code number | colour | wheels | interior colour | silver trim | + label |
| code 8 | white | 9.5x2mm | white | yes | small |
| code 9 | white | 9.5x2mm | white | yes | large |
| code 10 | white | 9.5x2mm | white | no | small |
| code 11 | white | 9.5x2mm | white | no | large |
Values based on Vectis actual selling prices.
all models - £25-£40