Matchbox Superfast MB36-c Opel Diplomat





The Opel Diplomat made the transition to SuperFast wheels in the F box era but was also packaged in G boxes and USA & Canada blisterpacks from 1969-71.
The first runs were painted gold clearcoat over silver primer and when compared to the regular wheels issue which were simply a metallic gold paint the difference is obvious. The vast majority were given the same gold candycoat but over gold primer so look darker, a shade shared with most SF #56 BMC1800.
Relative thickness of primer v candycoat allows for very fine variations of paint shade however from a rational point of view collecting silver v gold primered gold candycoats covers the multitude of minute shade variations possible on each paint run.
Lesney were phasing out mask sprayed silver trim in 1970 so around half of the Opels in both shades lack silver trim on the front grille.

A new size of tyre, both solid or more commonly hollow, thin 10.5x2mm with 5 slots, was introduced for this and a few other cars although some of the last examples also were made with hollow 9.5x2mm 5 slots best known from the SF25 Cortina GT.
The chrome plated engine was made of green plastic, and if any cars were assembled with green engines then they would be errors. In the regular wheels era some parts like engines were made in white (eg RW #6d) or grey (RW #36c) plastic when the chrome plating equipment was not able to handle the required production volumes and these models are much easier to find . That is not the case with SuperFast era green plastic items which were always intended to be chrome plated.
As with the regular wheels issue, the bodies exist in equal numbers with 2 sizes of tow guide front numberplate, which reflects a minor difference in the left from the right hand twin in the 36c body tool. A number from 1 to 4 is cast on the inside of each bonnet (hood) reflecting 4 quadrants of the bonnet tool.




>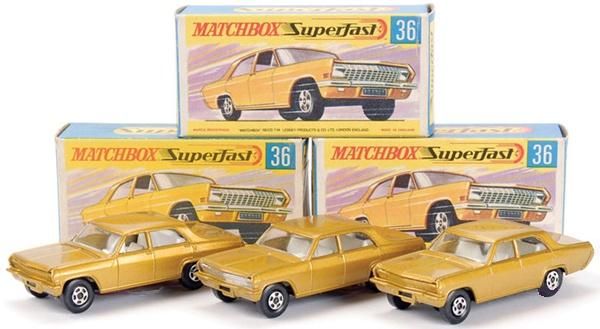 Above: A mixture of metallic light gold and metallic gold Opels,
All in G type boxes.
Above: On the right is the metallic gold and on the
left is the light metallic gold with their respective boxes.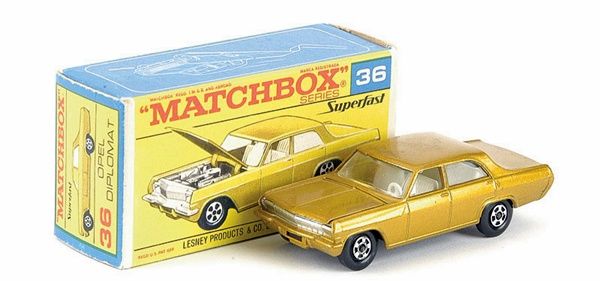 Above: The first version in light metallic gold with its F type box
Above: A later issue in metallic gold with an F type box.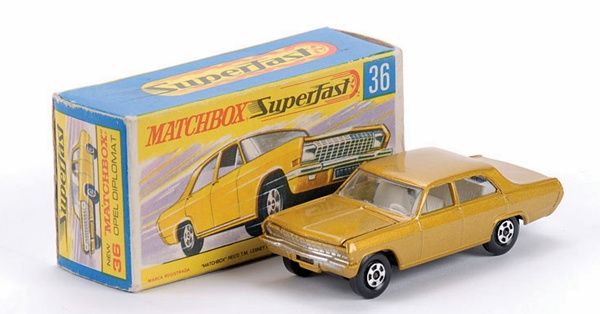 Above: And the last issue in metallic gold with its G type box.
code
number

colour

wheels

trim

code 13

metallic light gold

10.5x2mm

silver

code 14

metallic light gold

10.5x2mm

none

code 15

metallic gold

10.5x2mm

silver

code 16

metallic gold

10.5x2mm

none

code 17

metallic gold

9.5x2mm

none
Values based on Vectis actual selling prices.
Metallic light gold in F type box - £40-£60
Metallic gold in G type box - £25-£35