Matchbox Superfast MB31-c Lincoln Continental





The big selling #31 Lincoln Continental was the only 1964 release casting to make the transition to the Superfast range and was packaged in ´G´ boxes, USA and Canada blisterpacks with copyright dates 1969-1971 and Zingomatic / Broom Stick blisters.
It was always painted metallic lime green candycoat usually over silver primer although at least one uncommon run was produced over gold primer which makes the lime noticeably more yellowy than standard examples.
Early Superfast production was fitted with 10.5x2mm 5 slot wheels until the wheel arches were enlarged to enable the suspension to function with 10x4mm wide 5 slot wheels.
Rare crossovers exist fitted with thin tyres with enlarged wheel arch bodies although wide wheels have not yet turned up under the original flat top rear wheel arches bodyshell.

The interior was always ivory plastic and there is not usually a driver fitted but penny numbers exist today known do have a driver fitted, apparently seat sets from either a #59 Galaxie or #20 Impala taxi with tow hook cut off however there is no proof that these are were assembled this way by Lesney.
One or two examples of the regular wheels turquoise bodies fitted with SuperFast baseplates have been auctioned by Vectis and ebay but these cars are regarded as factory trials, lunchbox specials or customs rather than Lesney volume produced items.
However Superfast shade metallic lime bodies on regular wheels baseplate have been found in significant numbers and can be regarded as a genuine factory produced store distributed variation.





Above: Two Lincolns, One with regular wheel type arches on the right and one with enlarged Superfast wheel arches on the left.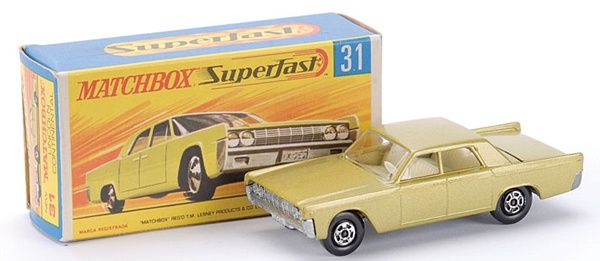 Above: The early version of the Lincoln with small wheel arches and 10.5x2mm wheels complete with it's G type box.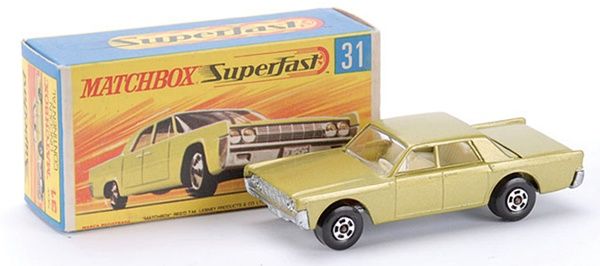 Above: A later issue Lincoln with enlarged wheel arches to take the wider 10x4mm wheels.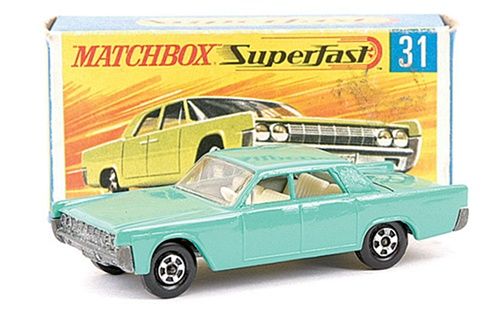 Above: And the rare regular wheels era turquoise body paired up with the later superfast baseplate.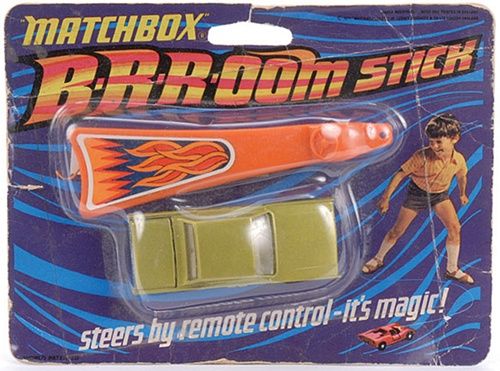 Above: The Lincoln in a Brroom-Stick blister pack which was also known as the 'Zingomatic' in North America.
| | | | | |
| --- | --- | --- | --- | --- |
| code number | colour | wheels | wheel arches | driver |
| code 5 | turquoise | 10.5x2mm 5 slot | small | no |
| code 6 | metallic lime green | 10.5x2mm 5 slot | small | no |
| code 7 | metallic lime green | 10.5x2mm 5 slot | small | yes |
| code 8 | metallic lime green | 10.5x2mm 5 slot | enlarged | no |
| code 9 | metallic lime green | 10x4mm 5 slot | enlarged | no |
Values based on Vectis actual selling prices.
turquoise body, 10.5x2mm wheels £800-£1000
metallic lime body, 10.5x2mm wheels - £30-£40
metallic lime body, 10x4mm wheels - £20-£30