Matchbox Superfast MB29-c Fire Pumper





This generic American Fire pumper joined the Superfast range for barely 6 months in 1970, perhaps it was an odd choice by Lesney given that it was a 5 year old casting and their newly introduced #35 Merryweather Fire Engine combined both pumper tank body with a roof ladder.
The #29 was packaged in "F" boxes and "G" boxes as well as USA and Canada blisterpacks with copyright 1969 dates and these are amongst the more difficult to obtain and pricey transitional items mint in package.
The Denver decals fitted to the regular wheels issues were not fitted to the standard SuperFast issues although pre production examples are known to have been fitted with them and collector reassignments are a simple matter.
Lesney fitted 10.5x2mm thin hollow wheels retained with black or dark red axle clips to all SF #29 although wheel swaps are simple.
There were no tooling changes during 1970 however a quantity of early regular wheels bodies with the original recessed front door panels had survived in storage for some years and these were made up with SuperFast baseplates and are very difficult to find.
A new design American pumper was planned, with the pre-pro being illustrated in 1981 Lesney catalog. However, the resulting toy for the "Code Red" series turned out to be a #29c body casting modified with the addition of roof horns, a water cannon, cast in side control panels and P1 tampo.
The baseplate appears to be a new 1981 design to the same outer dimensions as a #29c baseplate.
The blue glazing unit appears identical to 1970 production, roof tampos and 10x4mm dot-dash wheels completed the very smart revival.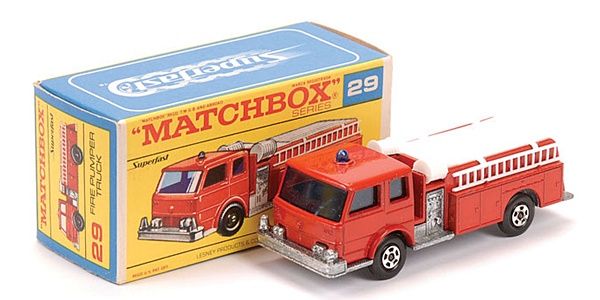 Above: The Fire Pumper in it's very desirable F type box. Note the raised decal panel on the door.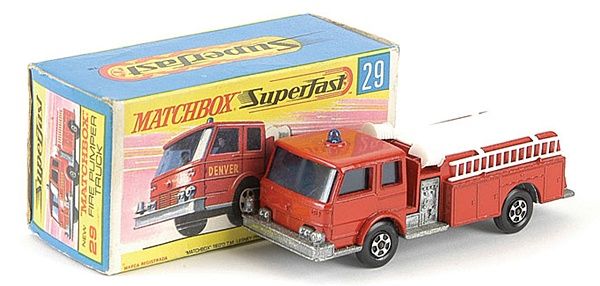 Above: A later example in a G type box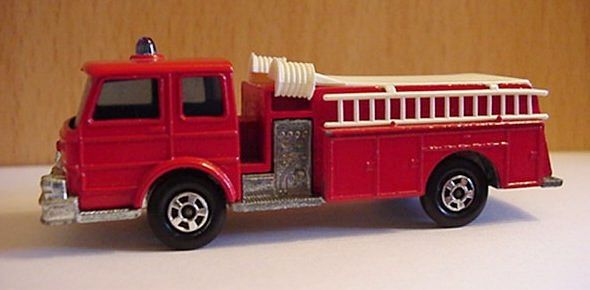 Above: A rare crossover piece with an earlier regular wheel type body with recessed door panels fitted to a Superfast baseplate.
photo courtesy Hardy Ristau.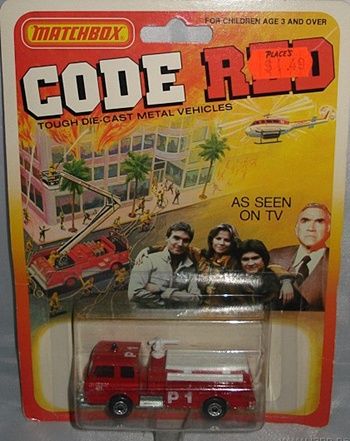 Above: The 1981 blister 'Code Red' which has 'P1' and 'Los Angeles City Fire Dept' tampo and a white plastic water cannon fitted while the control panel details were removed from the baseplate and cast in as part the bodywork.
Above: An unusual pre production model fitted with wide 5 slot wheels.
code
number

colour

baseplate
inscription

door
panels

wheels

labels
/ tampo

water
cannon

code 1

red

fire pumper

recessed

10.5x2mm 5 slot

none

no

code 2

red

fire pumper

raised

10.5x2mm 5 slot

none

no

code 3

red

pumper / 1981

raised

9.5x4mm dot-dash

P1,LAFD

yes

code 4

red

pumper / 1981

raised

9.5x4mm dot-dash

P1, (roof only)

yes

code 5

red

pumper / 1981

raised

9.5x4mm dot-dash

none

yes

code 6

red

pumper / 1981

raised

10x5.5mm 5 squares

P1,LAFD

yes
Values based on Vectis actual selling prices.
with recessed door panels - £200-£300 (estimate)
raised door panels, F box - £50-£60
raised door panels, G box - £30-£40
code red, with plastic water cannon - £20-£30