Matchbox Superfast MB27-d Mercedes 230sl





The Merecedes 230SL joined the SuperFast range retaining its regular wheels colours initially. Its off-white paintwork is prone to discolour & darken over time with exposure to light or tobacco smoke so while none were made in true cream there are still 2 distinct shades of off-white as used on the no 15 VW Beetle.
It was fitted with thin 10.5x2mm hollow 5 slot wheels, with approximately 1/3 of these off-white cars having wheels with abnormally small squarish slots.
The cast number 27 was added to the insides of both doors during 1970, note doors can be swapped between regular wheels and Superfast castings so no premium should be paid for 27 cast on a RW door or no 27 on a SF door.
Doors were painted already fitted to the bodywork so there should never be any shade differences between doors and bodyshell. No off-white bodyshells have been found factory fitted with black seats, and no low flared wheel arch yellow cars had factory wide wheels.

The Mercedes was then recoloured with a yellow clearcoat applied initially over gloss off-white bodies, with the same red seats, and this is the least common Hackney made variation of this casting. It then became the first 1-75 series toy to feature black seats, still fitted with the same wheels and colour paint although standard white primer was used once the offwhite bodies in stock were used up.
By 1972 the body casting was modified with enlarged unflared wheel arches to enable wide 5 slot wheels to be fitted, although crossovers with wide arches and narrow tyres are very sought after. Many of these wide wheel arch wide wheel 230SLs can be found painted in unprimed solid yellow enamel of a slightly less bright more orange hue.
It was packaged in ´G´ and ´H´ boxes as well as US, Canadian and European blisterpacks with copyright dates 1969-73.
Japanese series boxes were made for the special re-issue of this casting 1977-79 although the cars themselves were identical to the 1973 Hackney production.
This tooling was used for Brazilian (mid 1970s) and Bulgarian (whole 1980s) issues which appeared in many stunning colour combinations usually with black seats although as these toys were not made in the UK they are outside our scope.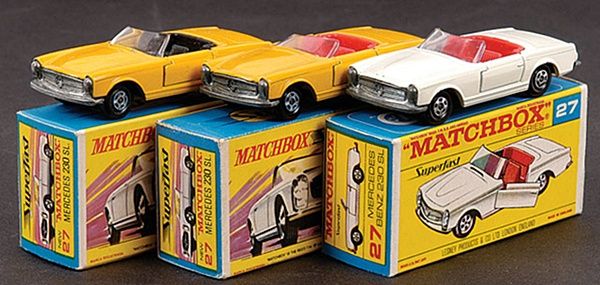 Above: The three basic variations of the Mecedes 230sl.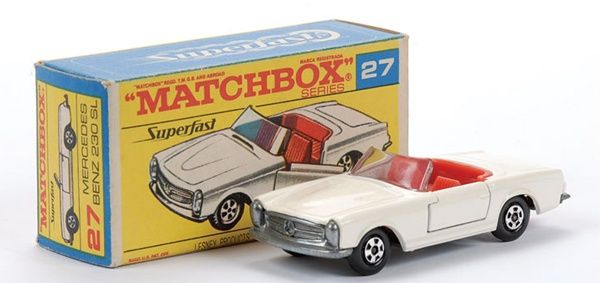 Above: The most desirable version has to be
the first issue in white with it's F type box.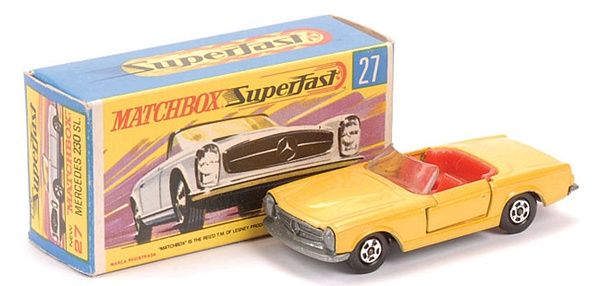 Above: In yellow with red plastic seats and and it's G type box.
Above: The red seats were soon changed for black seats.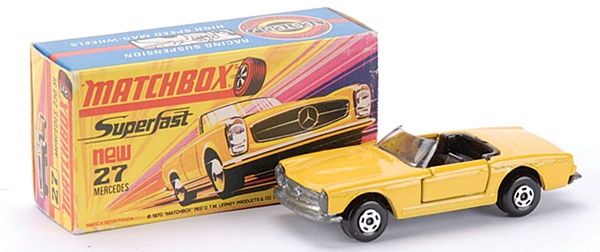 Above: A later issue with cut away wheel arches and wider wheels in a H type box.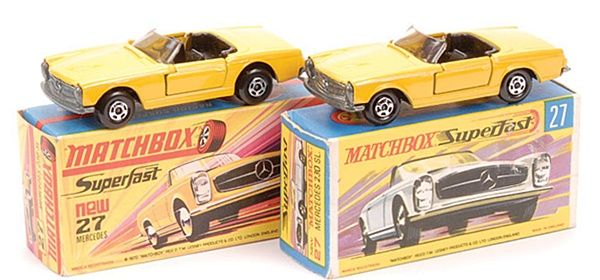 Above: Showing the standard wheel arches on the right with the cut away modification on the left which was done to accommodate the wider wheels.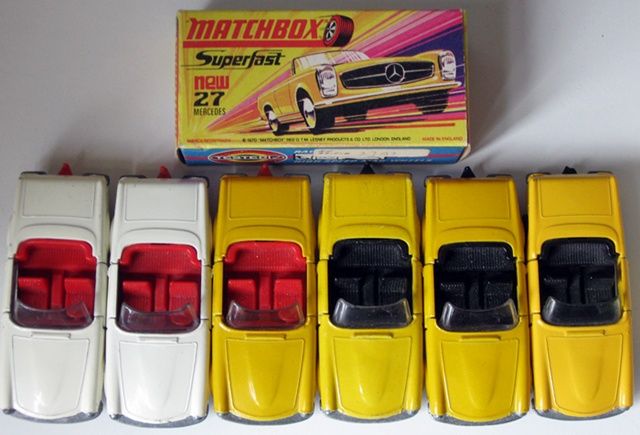 Above: The Mercedes has very wide variations in paint shades and colours.
photo courtesy Mick Bruce.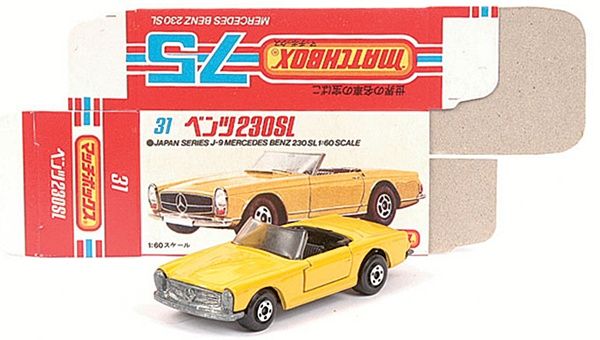 Above: A rare Japanese issue with its box.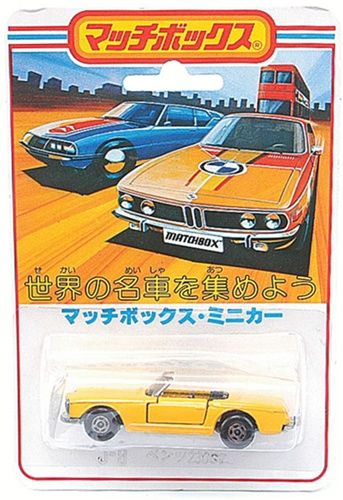 Above: An even rarer Japanese blister card.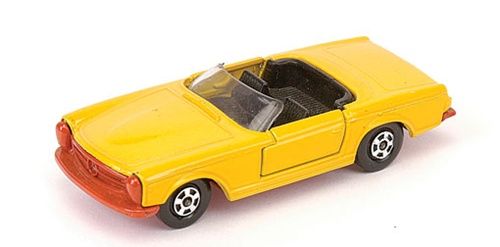 Above: An unusual pre production Mercedes with red baseplate.
| | | | | | |
| --- | --- | --- | --- | --- | --- |
| code number | colour | wheels | interior colour | #27 cast in doors | wheel arches |
| code 5 | off white | 10.5x2mm | red | no | standard |
| code 6 | off white | 10.5x2mm | red | yes | standard |
| code 7 | yellow | 10.5x2mm | red | yes | standard |
| code 8 | yellow | 10.5x2mm | black | yes | standard |
| code 9 | yellow | 10.5x2mm | black | yes | enlarged |
| code 10 | yellow | 10x4mm | black | yes | enlarged |
| code 11 | deep yellow | 10x4mm | black | yes | enlarged |
Values based on Vectis actual selling prices.
white body,red seats - £40-£60
yellow body, red seats - ££30-£40
yellow body, black seats - £20-£30