Matchbox Superfast MB18-e Field Car





In 1970 the #18 Scout Field car lost its autosteer feature with coloured hubs and separate tyres in favour of deeper sprung suspension and SuperFast wheels. It was packaged mostly in "G" boxes but also in "I" boxes as well as all blisterpacks with copyright dates between 1969 and 1972. It retained its regular wheels colours of Muira yellow, ivory seats, red-brown roof and plated baseplate for its run as #18 in the 1-75 series.
Initially 12.5x2mm thin 4 slot truck tyres were fitted with a hard to find short run (featured in both 1971 and 1972-73 international collector catalogues) made with the 5 slot 12.5x4mm thick truck tyres.However the vast majority produced had 12.5x4mm wide 4 slot truck tyres fitted. Note all types of 12.5mm tyres were hollow, none were solid.

The words "Pat App" were added to the baseplate shortly after the Superfast conversion so SuperFast baseplates without 'Pat App' are much harder to find. The roof of the body casting was strengthened by filling in the originally hollow triangles, and later in its two pack career smoothed out completely. Bearing in mind the fact that there were twin body shells produced by the body tool as well as twin, perhaps triplet or quad baseplates produced by the baseplate tool, there are some tiny casting differences which can be seen but in fact were produced in equal numbers over all variations - perhaps the most noticeable being the "A" pillar of half of all bodies is smooth and on the other half features a groove.
The components for the wide 4 slot wheeled version were supplied unpainted for painting in various colours & assembley by Roly Toys of Brazil before the tooling went into storage for 3 years.

The tooling was revived in 1976 for the new two-pack range without #18 cast on the baseplate, initially as TP12 with the first short run in now hard to find dark army olive green with black seats & baseplate, tan roof and a choice of either 12.5x4mm 4 slots or 11x5mm 5 square slots (from #32 Maserati) wheels which were left plain black plastic.
Huge numbers were later made in a lighter colour standard olive green again featuring either wheel type and black seats with a tan roof which was smooth like the regular wheels roofs until the tooling wore out and new moulds were made with textured roofs. These usually carried white A on a red & blue block stickers on their doors but a minority received white US army stars on their bonnets instead.

This versatile casting was selected from 1977 for TP-9 to be painted metallic red with black seats & baseplate, tan hood, hot foiled 4 slot 12.5x4mm or 11x5mm 5 square slot wheels and a race #44 hood sticker as a two pack tow car for the #44 F1 racer.
It was later selected also for TP- 8 painted insipid orange (and final short runs in dark yellow and bright orange) with black hood and seats to match the former #38 Honda motorcycle trailer although a very hard to find very short run of these Field cars were painted white and carried the same checkered flag bonner sticker.

Small quantities of otherwise standard TP-8 and TP-9 Fieldcars had silver painted baseplates instead of black, and sometimes odd old stock stickers intended for deleted castings were fitted to these on days when insufficient volumes of correct labels were available to get toys finished and blistered.
Rare crossovers exist of TP8 and TP9 fitted with unchromed wheels intended for the TP-12 army issues with tiny quantities of army issues having hot foiled wheel hubs. For 1982,the final issues in bright orange featured "Scout Racing #179" tampos which confirmed Lesney"s use of the Scout name & design with liberal artisic license when this toy was designed in 1968. These toys used up both tan TP-9 and black TP-8 roofs.





Above: The first version was in the regular wheel colour yellow, It had two different wheel types, two different roof infill types and the yellow version may be found with or without a satchel molded into the rear parcel shelf, all other colour schemes have the satchel molded in.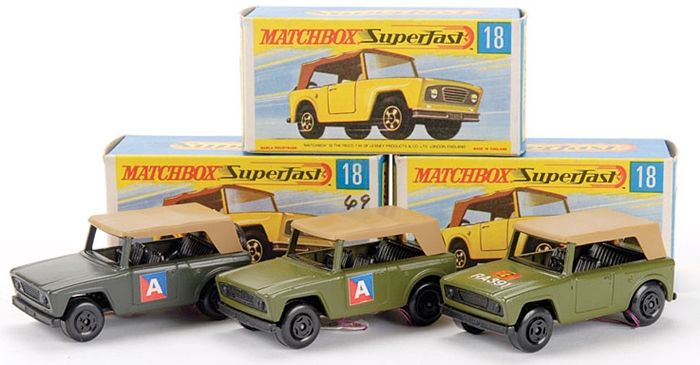 Above: The Army issues were in olive green (center & right) and the olive drab (left), They can be found with a variety of labels and wheel types which are usually black but chrome center wheels are hard to find. Also the roof can be smooth or have a textured finish, These were all blister packed models so would not have come in the boxes shown.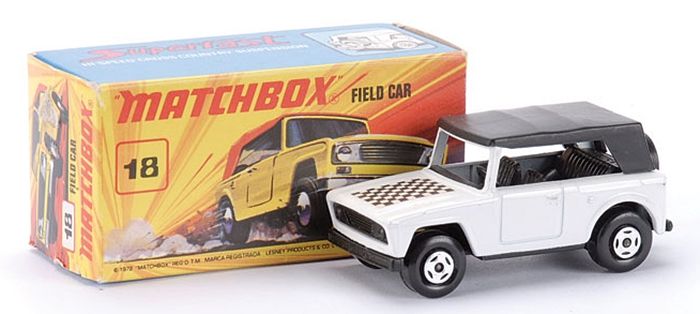 Above: The white Field car is the rarest and most difficult to find, It can have a smooth or textured roof and black or chrome wheel centers. It usually has the 'checkers' label but 'wild cat' labels from the Mustang dragster have also been found.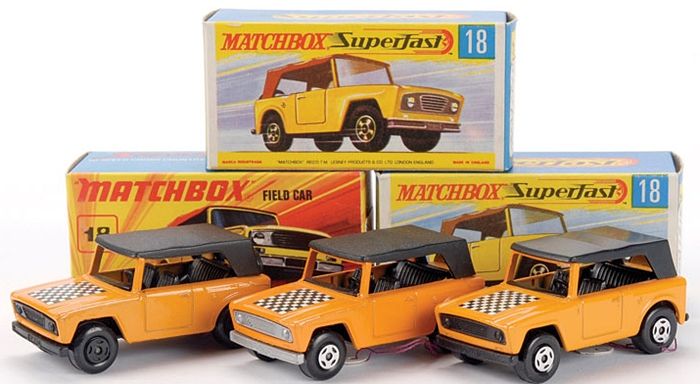 Above: The dull orange can be found with a textued or smooth roof, the baseplate can be unpainted, silver grey or matt black. It came with black or chrome wheel centers but always had the checkered bonnet label.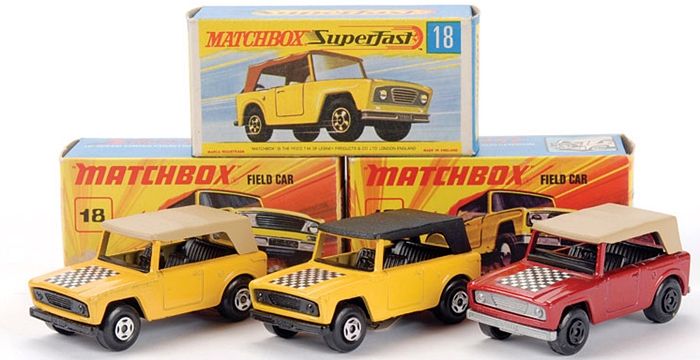 Above: The metallic red version can be found with a flat black, gloss black or silver grey baseplate and the smooth or textured roof can be tan or light tan, It was usually fitted with 'checkers' or '44' labels but 'OCL' labels have also been found.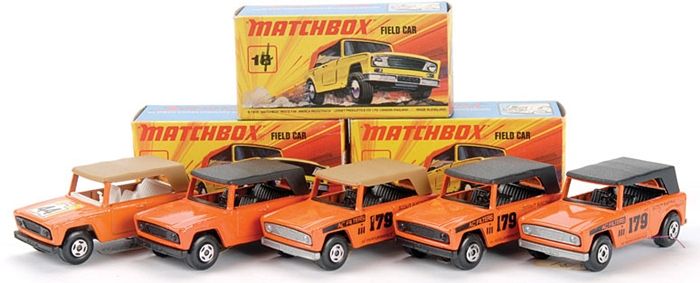 Above: The dark orange version usually has '179' tampo but can be found with '44' or USA road race labels, It was a USA issue but was also released without labels or decals as a tp-8.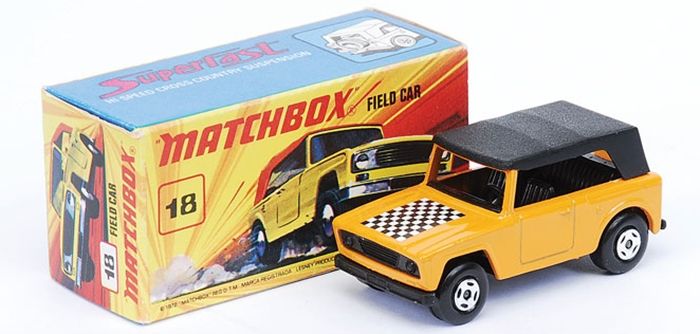 Above: The dark yellow version can have a flat or gloss black baseplate, It could have a tan or black roof and 4 or 5 slot wheels but it always had 'checkers' labels.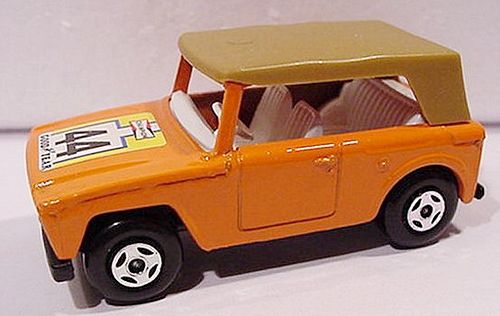 The final release was in mid orange, It could have '44', 'checkers' or 179 labels / tampo, the base could be flat black, gloss black or silver grey, the interior could be black or white and the roof smooth or textured, the 4 slot wheels can have chromed or black centers
photo courtesy Christian Falkensteiner.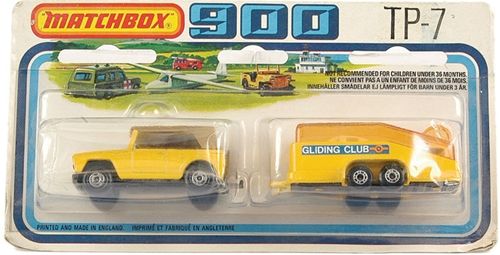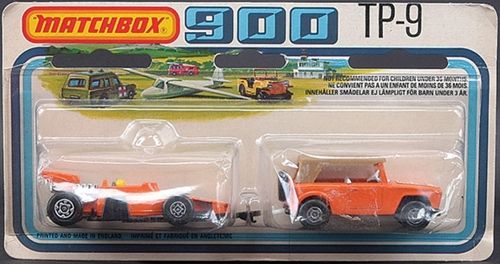 Above: tp-7 and tp-9, all of the twin packs are quite sought after, Note the yellow car appears to have an extended towing hook and the boot mounted spare wheel is nowhere to be seen ?.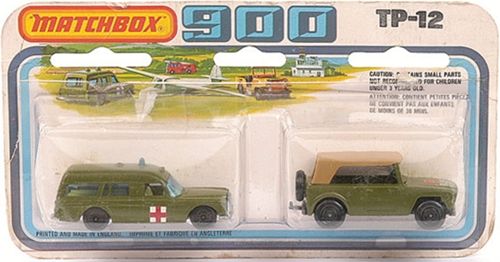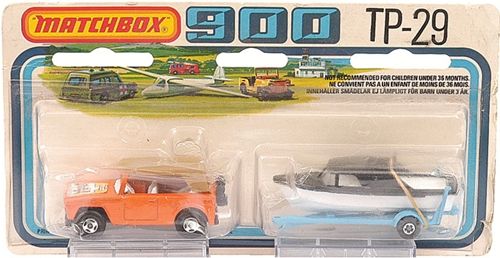 Above: The tp-12 and tp-29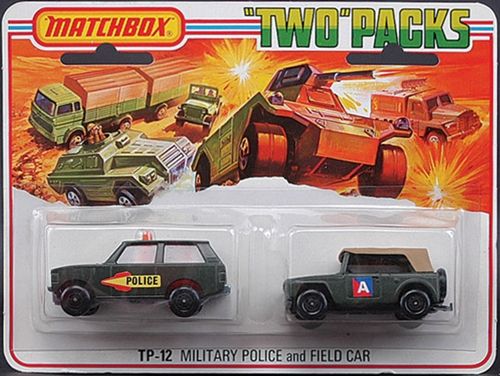 Above: And probably the most desirable is the un numbered "Two Packs" blister card with the white Field car, Also shown is the tp-12 military two pack.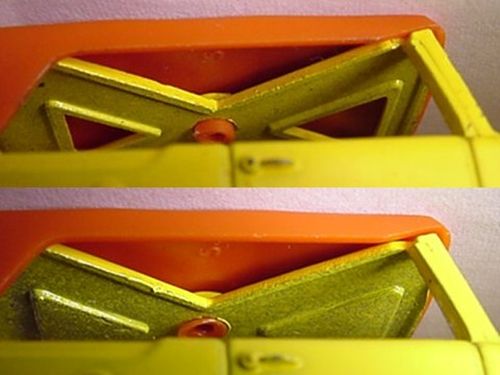 Above: Showing the earlier open type roof 'triangles' and the later one with the filled in triangles.
photo courtesy Christian Falkensteiner.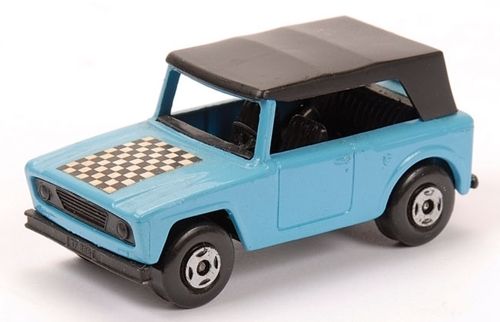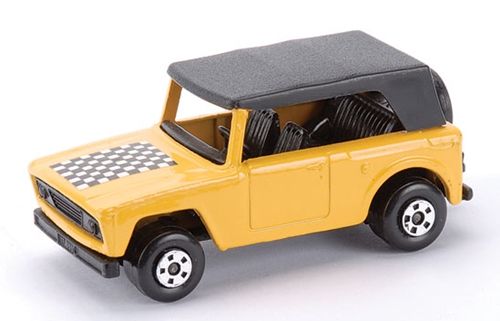 Above: Due to the very long life of the Field car it has been found in many different experimental colour shades including egg yolk yellow, metallic green, metallic purple, blue gloss, orange and yellow among others.
Above: A colour trial in green gloss with 'Paris-Dakar rally' labels,
photo courtesy J. M. Roulet / Christian Falkensteiner.
code
number

body
colour

baseplate
colour

roof colour
& texture

wheels

interior colour/
satchel cast

'Pat App'
on base

roof 'triangles'
casting

decals/
tampo

code 6

yellow

unpainted

red-brown, smooth

12.5x4mm silver 5 slot

ivory, no

no

open

none

code 7

yellow

unpainted

red-brown, smooth

12.5x4mm silver 5 slot

ivory, yes

no

open

none

code 8

yellow

unpainted

red-brown, smooth

12.5x4mm silver 5 slot

ivory, no

yes

open

none

code 9

yellow

unpainted

red-brown, smooth

12.5x4mm silver 5 slot

ivory, yes

yes

open

none

code 10

yellow

unpainted

red-brown, smooth

12.5x4mm silver 5 slot

ivory, no

yes

closed

none

code 11

yellow

unpainted

red-brown, smooth

12.5x4mm silver 5 slot

ivory, yes

yes

closed

none

code 12

yellow

unpainted

red-brown, smooth

12.5x2mm silver 4 slot

ivory, no

yes

open

none

code 13

yellow

unpainted

red-brown, smooth

12.5x2mm silver 4 slot

ivory, yes

yes

open

none

code 14

yellow

unpainted

red-brown, smooth

12.5x2mm silver 4 slot

ivory, no

yes

closed

none

code 15

yellow

unpainted

red-brown, smooth

12.5x2mm silver 4 slot

ivory, yes

yes

closed

none

code 16

yellow

unpainted

red-brown, smooth

12.5x4mm silver 4 slot

ivory, no

yes

open

none

code 17

yellow

unpainted

red-brown, smooth

12.5x4mm silver 4 slot

ivory, yes

yes

open

none

code 18

yellow

unpainted

red-brown, smooth

12.5x4mm silver 4 slot

ivory, no

yes

closed

none

code 19

yellow

unpainted

red-brown, smooth

12.5x4mm silver 4 slot

ivory, yes

yes

closed

none

code 20

yellow

silver-grey

red-brown, smooth

12.5x4mm silver 4 slot

ivory, no

yes

open

none

code 21

yellow

silver-grey

red-brown, smooth

12.5x4mm silver 4 slot

ivory, yes

yes

open

none

code 22

yellow

silver-grey

red-brown, smooth

12.5x4mm silver 4 slot

ivory, no

yes

closed

none

code 23

yellow

silver-grey

red-brown, smooth

12.5x4mm silver 4 slot

ivory, yes

yes

closed

none

code 24

olive green

flat black

tan, smooth

12.5x4mm black 4 slot

black, yes

yes

closed

'A' tp-12

code 25

olive green

flat black

tan, textured

12.5x4mm black 4 slot

black, yes

yes

closed

'A' tp-12

code 26

olive green

flat black

tan, smooth

12.5x4mm black 4 slot

black, yes

yes

closed

'RA391' tp-12

code 27

olive green

flat black

tan, textured

12.5x4mm black 4 slot

black, yes

yes

closed

'RA391' tp-12

code 28

olive green

flat black

tan, textured

11x4mm black 5 slot

black, yes

yes

closed

'A' tp-12

code 29

olive green

flat black

tan, textured

11x4mm black 5 slot

black, yes

yes

closed

'RA391' tp-12

code 30

olive green

flat black

tan, textured

11x4mm black 5 slot

black, yes

yes

closed

'star' tp-11

code 31

olive green

flat black

tan, textured

12.5x4mm silver 4 spoke

black, yes

yes

closed

'RA391' tp-12

code 32

olive green

flat black

black, smooth

12.5x4mm black 4 spoke

black, yes

yes

closed

'RA391' tp-12

code 33

olive drab

flat black

tan, smooth

12.5x4mm black 4 slot

black, yes

yes

closed

'A' tp-12

code 34

olive drab

flat black

tan, smooth

11x4mm black 5 slot

black, yes

yes

closed

'A' tp-12

code 35

olive drab

flat black

tan, smooth

11x4mm silver 5 sp sq

black, yes

yes

closed

'A' tp-12

code 36

white

flat black

black, smooth

11.5x4mm silver 5 slot

black, yes

yes

closed

'checkers' tp-8

code 37

white

flat black

black, textured

11.5x4mm silver 5 slot

black, yes

yes

closed

'checkers' tp-8

code 38

white

flat black

black, smooth

11.5x4mm black 5 slot

black, yes

yes

closed

'checkers' tp-8

code 39

white

flat black

black, textured

11.5x4mm black 5 slot

black, yes

yes

closed

'checkers' tp-8

code 40

white

flat black

black, smooth

12.5x4mm black 4 slot

black, yes

yes

closed

'Wild Cat' tp-8

code 41

dull orange

flat black

black, smooth

11x5mm silver 5 sp sq

black, yes

yes

closed

'checkers' tp-8

code 42

dull orange

flat black

black, textured

11x5mm silver 5 sp sq

black, yes

yes

closed

'checkers' tp-8

code 43

dull orange

flat black

black, smooth

12.5x4mm silver 4 spoke

black, yes

yes

closed

'checkers' tp-8

code 44

dull orange

flat black

black, textured

12.5x4mm silver 4 spoke

black, yes

yes

closed

'checkers' tp-8

code 45

dull orange

matt black

black, textured

12.5x4mm silver 4 spoke

black, yes

yes

closed

'checkers' tp-8

code 46

dull orange

flat black

black, smooth

12.5x4mm black 4 spoke

black, yes

yes

closed

'checkers' tp-8

code 47

dull orange

flat black

black, textured

12.5x4mm black 4 spoke

black, yes

yes

closed

'checkers' tp-8

code 48

dull orange

silver grey

black, textured

12.5x4mm silver 4 spoke

black, yes

yes

closed

'checkers' tp-8

code 49

dull orange

flat black

black, textured

12.5x4mm black 4 spoke

white, yes

yes

closed

'checkers' tp-8 tp-9

code 50

met red

flat black

tan, smooth

12.5x4mm silver 4 spoke

black, yes

yes

closed

'44' tp-3,tp-9

code 51

met red

flat black

tan, textured

12.5x4mm silver 4 spoke

black, yes

yes

closed

'44' tp-3,tp-9

code 52

met red

flat black

light tan, textured

12.5x4mm silver 4 spoke

black, yes

yes

closed

'44' tp-3,tp-9

code 53

met red

flat black

tan, smooth

12.5x4mm black 4 spoke

black, yes

yes

closed

'44' tp-9

code 54

met red

flat black

tan, textured

12.5x4mm black 4 spoke

black, yes

yes

closed

'44' tp-9

code 55

met red

silver grey

tan, textured

12.5x4mm silver 4 spoke

black, yes

yes

closed

'checkers' tp-9

code 56

met red

silver grey

light tan, textured

12.5x4mm silver 4 spoke

black, yes

yes

closed

'checkers' tp-9

code 57

met red

silver grey

tan, textured

12.5x4mm black 4 spoke

black, yes

yes

closed

'checkers' tp-9

code 58

met red

silver grey

light tan, textured

12.5x4mm black 4 spoke

black, yes

yes

closed

'checkers' tp-9

code 59

met red

gloss black

black, textured

12.5x4mm silver 4 spoke

black, yes

yes

closed

'44' tp-9

code 60

met red

flat black

tan, textured

12.5x4mm silver 4 spoke

black, yes

yes

closed

'checkers' tp-9

code 61

met red

flat black

light tan, textured

12.5x4mm silver 4 spoke

black, yes

yes

closed

'checkers' tp-9

code 62

met red

flat black

tan, textured

11x5mm silver 5 sp sq

black, yes

yes

closed

'44' tp-9

code 63

met red

flat black

tan, textured

12.5x4mm silver 4 spoke

black, yes

yes

closed

'OCL' (tp-22) tp-3

code 64

met red

flat black

tan, textured

12.5x4mm silver 4 spoke

black, yes

yes

closed

'OCL' (tp-22) tp-3

code 65

dark orange

flat black

black, textured

12.5x4mm silver 4 spoke

black, yes

yes

closed

none tp-8

code 66

dark orange

flat black

black, textured

12.5x4mm silver 4 spoke

black, yes

yes

closed

'179' (USA issue)

code 67

dark orange

silver grey

black, textured

12.5x4mm silver 4 spoke

black, yes

yes

closed

'179' (USA issue)

code 68

dark orange

silver grey

tan, textured

12.5x4mm silver 4 spoke

black, yes

yes

closed

'179' (USA issue)

code 69

dark orange

flat black

black, textured

11x5mm silver 5 sp sq

black, yes

yes

closed

'179' (USA issue)

code 70

dark orange

flat black

black, textured

12.5x4mm silver 4 spoke

white, yes

yes

closed

'179' (USA issue)

code 71

dark orange

flat black

tan, textured

12.5x4mm silver 4 spoke

white, yes

yes

closed

'44' (USA issue ?)

code 72

dark orange

flat black

black, textured

12.5x4mm silver 4 spoke

black, yes

yes

closed

'USA road race' (USA issue)

code 73

dark orange

silver grey

tan, textured

11x5mm silver 5 sp sq

black, yes

yes

closed

'179' (USA issue)

code 74

dark orange

gloss black

black, textured

12.5x4mm silver 4 spoke

black, yes

yes

closed

'179' (USA issue)

code 75

dark orange

silver grey

tan, textured

12.5x4mm silver 4 spoke

black, yes

yes

closed

none tp-8

code 76

dark orange

flat black

tan, textured

11x4mm silver 5 sp sq

black, yes

yes

closed

'179' (USA issue)

code 77

dark yellow

gloss black

tan, textured

12.5x4mm silver 4 spoke

black, yes

yes

closed

'checkers' tp-8

code 78

dark yellow

flat black

black, textured

12.5x4mm silver 4 spoke

black, yes

yes

closed

'checkers' tp-8

code 79

dark yellow

flat black

black, textured

11x5mm silver 5 sp sq

black, yes

yes

closed

'checkers' tp-8

code 80

mid orange

flat black

black, textured

12.5x4mm silver 4 spoke

white, yes

yes

closed

'44' tp-8,tp-30

code 81

mid orange

flat black

black, textured

12.5x4mm silver 4 spoke

white, yes

yes

closed

'179' tp-8,tp-30

code 82

mid orange

flat black

tan, textured

12.5x4mm silver 4 spoke

black, yes

yes

closed

'179' tp-8,tp-30

code 83

mid orange

gloss black

black, textured

12.5x4mm silver 4 spoke

black, yes

yes

closed

'checkers' tp-8,tp-30

code 84

mid orange

flat black

tan, textured

12.5x4mm silver 4 spoke

white, yes

yes

closed

'44' tp-8,tp-30

code 85

mid orange

flat black

tan, textured

12.5x4mm silver 4 spoke

black, yes

yes

closed

'44' tp-8,tp-30

code 86

mid orange

silver grey

black, textured

12.5x4mm black 4 spoke

black, yes

yes

closed

'179' tp-8,tp-30

code 87

mid orange

flat black

black, textured

12.5x4mm silver 4 spoke

black, yes

yes

closed

'179' (USA issue)
Values based on Vectis actual selling prices.
Note: values given are approximate due to the large number of variations
yellow - £20-£30
olive green - £20-£25
olive drab - £35-£45
white - £150-£200
dull orange - £20-£30
met red - £15-£20
dark orange - £25-£35
dark yellow - £20-£30
mid orange - £25-£35