Matchbox Superfast MB17e AEC horsebox





The #17e AEC horsebox was converted to join the Superfast range in 1970 for a 2 year stay during which time it was packaged in ´G´ boxes or any USA or Canada blisterpacks with copyright dates between 1969 and 1971.
As all other trucks converted from regular wheels to SuperFast, the AEC horsebox did not gain sprung suspension fitted to cars but did gain the new standard axle clips to retain standard 11x2mm 5 slot thin hollow wheels ( or less common solid wheels) .

The chassis casting was altered to mount the rear axle clip, as was the chrome plated front half baseplate.
On the initial run which is the much harder to find than subsequent ones, all colours remained the same, red chassis cab with blue glazing, dark green box with gray door. The early ´G´ box artwork had a red chassis cab which was soon recoloured to display the much more common mustard chassis cab which was made in large numbers on the next runs and is easy to find still, with no other changes from the previous issue.

A third and final recolour came with a move to orange-red, a shade well known from the short but desirable run on the #22 Pontiac GP. Initially these orange-red Horseboxes were fitted with the last of the green boxes with a gray door however the intention had always been to fit a beige box with a caramel door so crossover models also exist fitted with the beige box and gray door.

Single examples of the mustard chassis cab are known to exist in the same collection, one standard except for being fitted with a caramel door, and one mustard with beige box and caramel door. It is not known if either of these variations were ever sold in retail stores unless more examples are found to verify distribution.
This tooling is not known to have had any further use once withdrawn from 1-75 series.




Above: A group shot of the main colour schemes,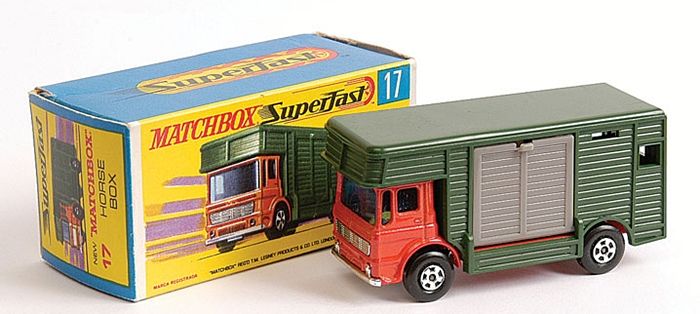 Above: The earliest release was red cab and dark green box with a gray door,
It came in a G type box showing a red AEC.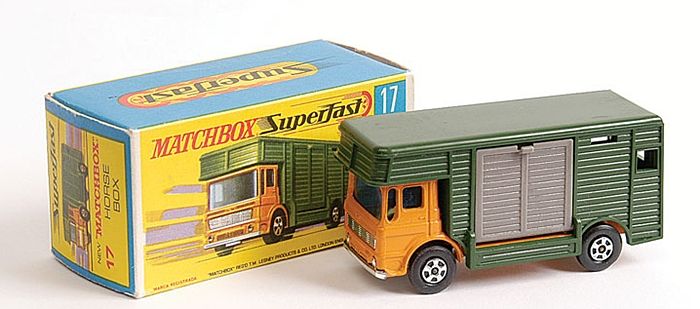 Above: The second version had the cab recoloured to orange and the box illustration was updated to match. The box and door were unaltered.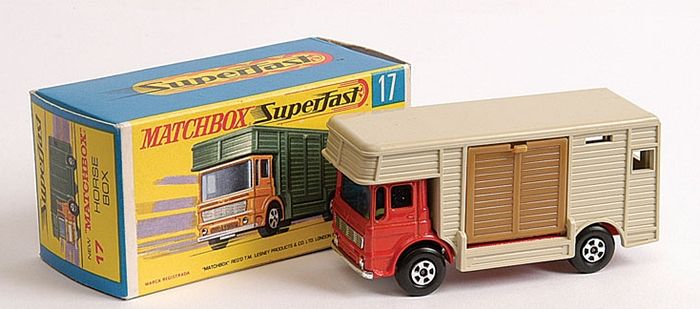 Above: On the final release the cab was recoloured to red-orange, the box was recoloured to light grey-brown and the door a mid brown, Both the orange cab and orange red cab may be found with with the wrong coloured plastic parts that were intended for earlier or later issue.
code
number

cab
colour

horsebox
colour

horsebox
door colour

wheels

code 5

red

dark green

grey

11x2mm 5 slot

code 6

red-orange

dark green

grey

11x2mm 5 slot

code 7

mustard

dark green

grey

11x2mm 5 slot

code 8

red-orange

light grey-brown

brown

11x2mm 5 slot

code 9

light red-orange

light grey-brown

brown

11x2mm 5 slot

code 10

mustard

light grey-brown

brown

11x2mm 5 slot

code 11

red-orange

light grey-brown

grey

11x2mm 5 slot

code 12

mustard

dark green

brown

11x2mm 5 slot
Values based on Vectis actual selling prices.
red cab, dark green box, grey door - £35-£45
all others - £25-£35