Matchbox Superfast MB10-d Leyland Pipe Truck





The Leyland Ergo cabbed truck was chosen by Lesney more times than any other as the basis for commercial vehicle models.
The Pipe truck joined the SuperFast range in 1970 and must have been a huge seller given the large numbers that survive today compared to all other trucks in the range in 1970.
The Leyland Pipe truck was always packaged in ´G´boxes or USA or Canada blisterpacks showing copyright years 1969 to 1972.
The first run was in the same shade of red as the previous regular wheels issue although these are most certainly not leftover regular wheels bodies because the design was modified with a clip-on black plastic pipe holder on conversion to SuperFast in place of the 4 diecast body spikes that performed the same role.
The chrome baseplate was extended from just covering the front axle on the Regular wheels issue to covering up the whole legth of chassis and enclosing all 3 rearmost axles.The front axle was held on with a traditional 1970 black axle clip.
This casting was recoloured dull orange for the bulk of its Superfast production, was always fitted with either solid or hollow 11x2mm wide thin 5 slot tyres and blue tinted windows.
It usually came with a chrome plated baseplate but a significant quantity were made with unplated gray plastic baseplates.
The load of pipes were usually gray but a significant minority were yellow, usually held on with a blue elastic band.
There were at least 2 versions of letter spacing on the baseplate although knowing Lesney´s other castings, 3 or 4 different triplet or quadruplet baseplates emerging from each injection of the tool are very likely how it was produced.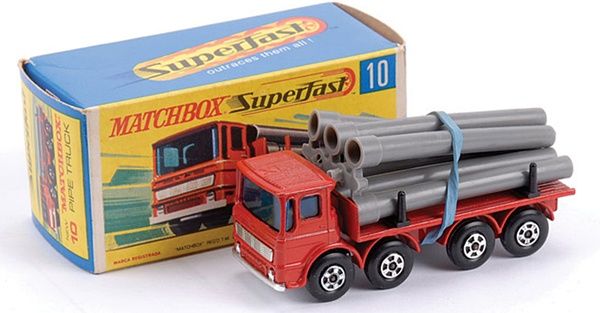 Above: The red Leyland, note how it uses black plastic posts to secure the pipes, These replaced the metal posts which were found on the regular wheel model.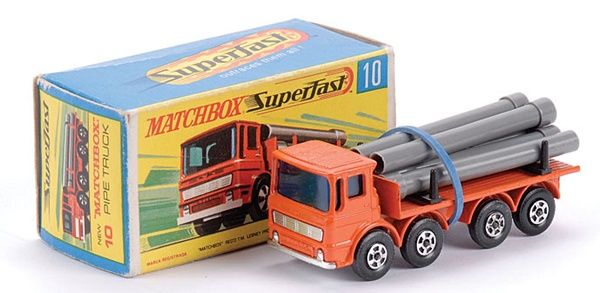 Above: The orange body with a chromed grill is probably
the most common variation.
Above: Orange body with a grey grille.
Above: Both the chrome grille and grey grille Leylands
can be found with a yellow pipe load.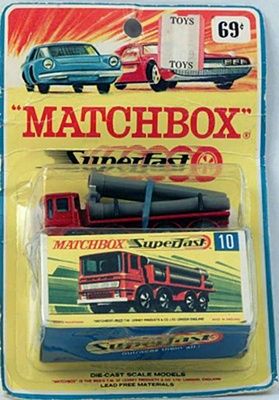 Above: The rare USA blister pack will cost you an extra £50.
| | | | | | |
| --- | --- | --- | --- | --- | --- |
| code number | colour | wheels | base colour | pipes colour | 'pat app' size |
| code 8 | red | 11x2mm 5 slot | chrome | grey | large |
| code 9 | orange | 11x2mm 5 slot | chrome | grey | large |
| code 10 | orange | 11x2mm 5 slot | chrome | yellow | large |
| code 11 | orange | 11x2mm 5 slot | grey | grey | large |
| code 12 | orange | 11x2mm 5 slot | grey | yellow | large |
| code 13 | orange | 11x2mm 5 slot | grey | yellow | small |
Values based on Vectis actual selling prices.
red body - £40-£50
orange body, chrome grille - £25-£35
orange body, grey grille - £40-£50